eSports discipline has become a very popular activity in recent years and the development of modern technologies, including blockchain and cryptocurrencies resulting in bookmakers offering Bitcoin esports gambling in their line. Bets on eSports are pretty common. Actually, it's more likely for an eSports bookie to have crypto bets compared to regular sports bookies simply because the target audience is much younger and tends to know more about the blockchain and the operation of cryptocurrencies.
When it comes to the most popular eSport people bet Bitcoin on is subject to debate. It's kind of interchangeable, but there is a massive competition between 2 games, CS: GO and LoL (League of Legends). These two games are usually the ones topping the charts in terms of popularity, a number of players, tournaments as well as viewers. So it makes more sense that these ones are the most popular to bet on. However other games such as Dota 2, FIFA, Rainbow Six are also popular.
There is a wide variety of Bitcoin bets on eSports games but guessing the winner is the easiest one. The main difference between regular sports betting and eSports betting is the knowledge of the game and clearer signs of advantages for the teams. Most people who bet on eSports are actually players themselves, which means they are more involved with the game, while some sports fans have never kicked a ball in their life. It's simply the connection that eSports fans have to the game, which then makes them confident about guessing the outcome of a match. In short, it is better to play the game and it will significantly increase your chances of winnings.
The bets are almost identical to regular sports, but there are significant differences in the odds, based on how much RNG (Random Number Generator) is involved in the game. What makes eSports games so special is that these games are purely dependent on players' skills. So when you bet on esports with BTC this factor is necessary to consider.
Types of eSports Games People Bet On
In general, there are currently 2 types of eSports that people bet on. These are:
The reason why there's such a disparity between these games in terms of RNG and not in terms of gameplay is due to how this factor changes the odds for the bets. The more RNG-heavy a game is, the more attractive the odds. Let's discuss each of these separately and identify games based on these types. There is no one answer to which RNG is the best, as it completely depends on a player and how he or she prefers to play.
RNG-free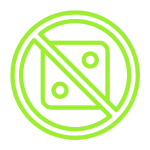 We have mentioned earlier that the majority of eSports games require skills from players. In order to defeat your opponent, you need to have a solid understanding of a game. RNG-free can also be interpreted as "skill-based" games. This means that when it comes to Bitcoin esports betting there are no systems implemented in the game that could affect the outcome of the match other than the skill of the players themselves. Everything is revolved around the actions of the players, rather than a randomly generated event or number that could swing the favor and can't be predicted. For example, you cannot influence the result after you roll a dice, but everything is different in eSport matches.
Games that correspond to this category are:
Each of these games has its unique approach to gameplay, and although there is a tiny amount of RNG involved with some of the games like LoL, Dota, Smite, and Overwatch, it's still a negligible amount that doesn't really affect the outcome of the match too much. Those who have played these games will understand that in order to succeed you need to be as precise as possible. Betting on esports for crypto follows the same pattern.
The most purely skill-based games on the list are CS: GO and FIFA, where absolutely n0 RNG is found. Every single thing that happens in these games is within the control of the players, thus making it more competitive. in CS: GO it's up to you which weapon you will choose, how you will play and what strategy your team is going to choose. Every player is equal in terms of the fact that there are no special abilities. The same applies to FIFA at the professional level. To conclude, if you decide to bet on these games keep in mind that no RNG involved in these eSports.
RNG-heavy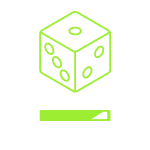 RNG-heavy games mean that a significant portion of the game or individual match is dependent on RNG. This could be a randomly generated outcome in Bitcoin esports betting that gives one of the players an absolutely amazing advantage, or something that weakens their chances at winning. For example, if we provide the same example of dice you might beat your opponent if your result is higher and none of you are actually able to influence the outcome
Such eSports are:
Fortnite/PUBG
Hearthstone
Any MMO
Let's then explain why these games are so RNG-heavy and what factors can influence the outcomes.
Fortnite is definitely one of the most popular games both among youngsters and adults. The RNG with jumping off the bus and landing in a place where there are fewer players and more guns is absolutely essential. The guns make a big difference in this game regardless of how skilled one of the players might be. If you end up at a good place, the chances increase that you will win the encounter.
Hearthstone is one of such games that could be seen on many Bitcoin esports betting sites. This game does involve a lot of skill and critical thinking, there's no doubt about that, but if the player doesn't draw the cards he or she needs there is simply no use to any skill involved. Furthermore, there are very few ways that players can have something to counter an opponent's strategy, this is also associated with RNG. The game actually works like this: you have a deck that you can customize with different cards, and your opponent does as well. They don't know what deck you are using so they may choose a random one they trust. It may happen that you have a deck that completely destroys theirs or vice versa. Furthermore, your win is completely dependant on whether or not you can draw cards that you need to win before your opponent, so there's a lot of RNG involved.
Best eSports Crypto Betting Sites of The Year!
Not sure where to start betting on eSports with crypto? No problem. For you, we have compiled a list of the best eSports Bitcoin betting sites. These brands have almost every major esport in their line of betting, with great odds and a broad array of additional options alongside hefty bonuses. Check these websites below!
FAQ on Crypto eSports Betting