Stake Review – The Quintesential Crypto Bookie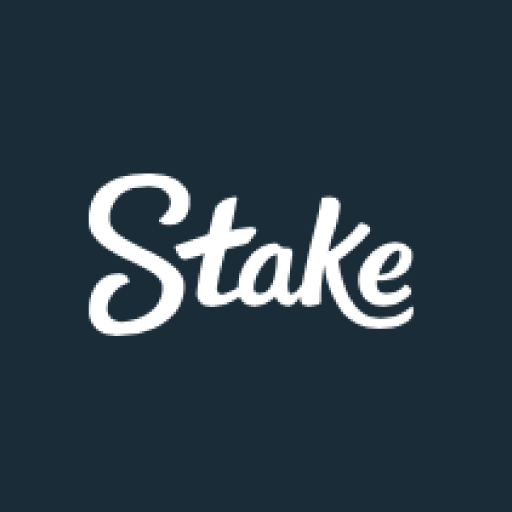 License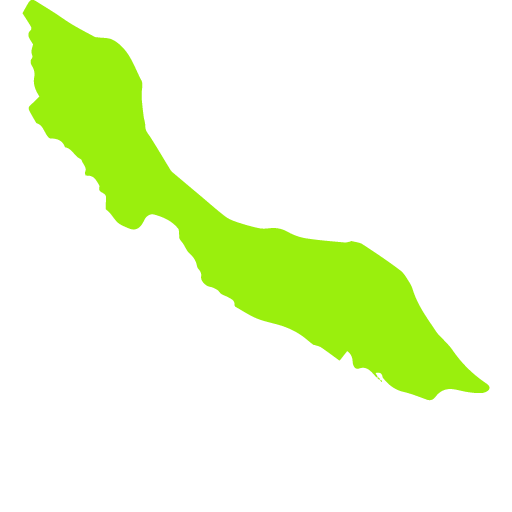 Tech Provider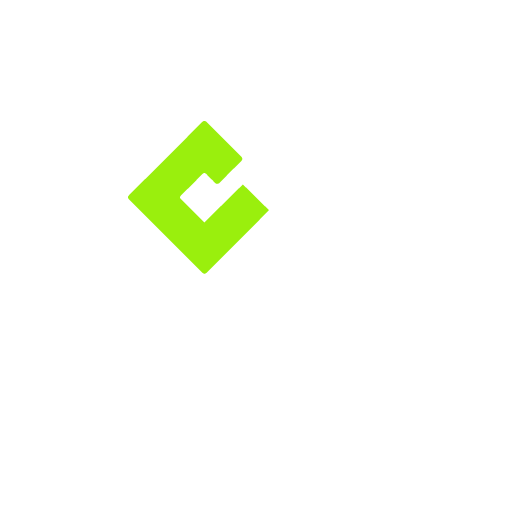 Stake crypto bookmaker is one of the many online bookmakers, which appeared on the wave of popularity of cryptocurrency. The company offers its customers an anonymous service, which can be used in countries where there are regulations on online gambling. It is known that financial transactions with cryptocurrency, as a rule, do not require verification.
Stake currently supports 8 different cryptocurrencies which are: Bitcoin, Ethereum, Litecoin, Ripple, Dogecoin, EOS, Tron, and Bitcoin Cash. Fiat currencies are not accepted.
Currently, the operator is considered one of the most reputable cryptocurrency bookmakers, with a lot of positive reviews on the Internet, fast payments, competitive chances, and excellent customer service. The company operates on the basis of a license issued by Curacao.
Stake has a large and diverse selection of sports among all cryptocurrency betting sites. There are about 25 of them in the line of betting. The most popular disciplines on Stake Bitcoin bookmaker are football, baseball, basketball, tennis, hockey, and some others. And among niche sports, we can highlight snooker, rugby, cricket, golf, boxing, MMA, and darts.
In the tennis line are all the main tournaments, but the line leaves much to be desired because bets are accepted only on the basic outcomes. As for football, we can note that almost all national championships are covered at least to the level of the second division. And in the leading European championships, you can bet on the matches of the third and fourth leagues. In addition to the main outcomes, bets are taken on the first goal, Asian totals, the outcome of the match without a draw, time/match, both will score, who will score the first goal, and a number of other possibilities.
There are no minimum deposit limitations on Stake crypto bookie and the same goes for maximum withdrawals. We should also point out that for punters there are no bonuses regarding sports betting, which is kind of surprising fact.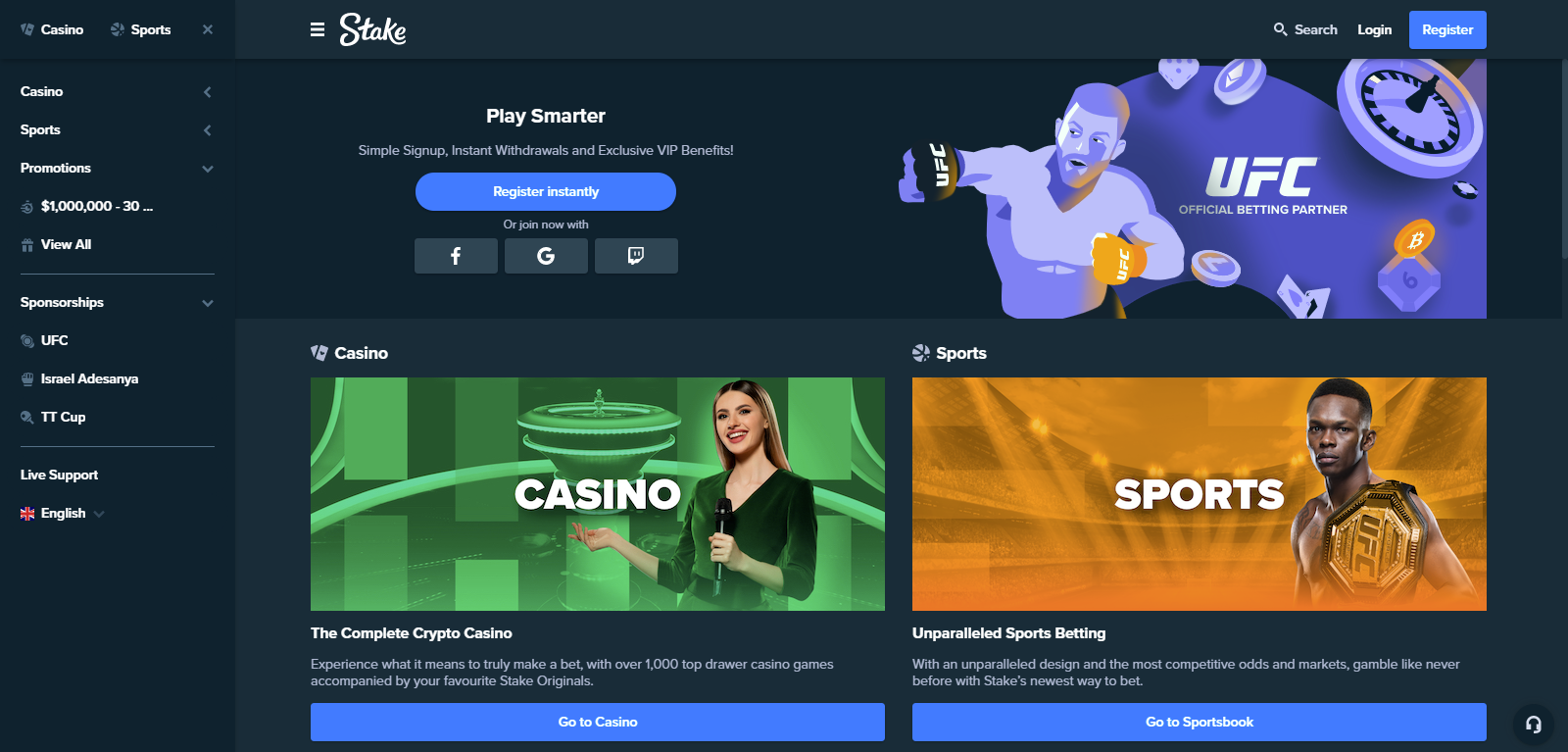 With more than 25 sports and eSports betting, 8 different cryptocurrencies for payments, Stake crypto bookmaker is one of the most popular and reliable brands for punters. The absence of bonuses does not hamper its users to bet on different options and maximize the winnings. The license also provides more reliability and security to the bookmaker.
How Easy is it to Bet on Stake?
Placing bets on Stake is extremely easy and requires just two clicks to find out the desired game. There are 5 sports shown in the Top Sports sections, which are basketball, soccer, tennis, ice hockey, and baseball. In these matches, you can place bets not only pre-match but also during the course of a match, which is also known as live betting. Stake crypto Bitcoin bookie can be proud of having a decent live betting network.
We can have a look at the Champions League match between Manchester City and Borussia Dortmund. Before we open additional options, it should be said that the match lays out only 3 options: City win, Dortmund win, or draw. After opening additional possibilities for betting we can find out total goals, 1st goal handicaps. There is no information about statistics and whether it is possible to make predictions on them.
Considering the recent results of both these teams, odds make sense and City are heavy favorites.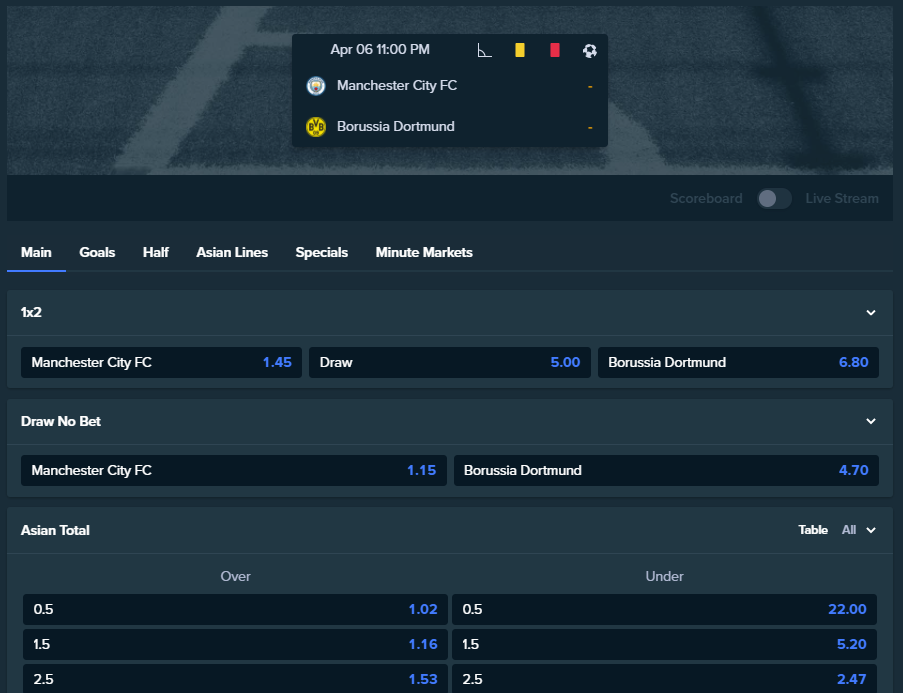 Stake Up Agains Other Bookmakers
One of the fairest methods of comparing bookmakers against the other ones is using odds for a particular match. Otherwise, it is difficult to have an objective view of whether one bookmaker is better than the other one. Stake crypto betting site is indeed a noteworthy bookmaker because of various reasons.
Stake vs 1xBet
These two are pretty much the same and punters will not notice any big difference. Having a look at the same match which we have already mentioned above between Manchester City and Dortmund odds follow each other. If Stake has 1.45 on City's winning, then 1xBet has 1.46. Even if we are dealing with a large amount of money, the difference here will be extremely minimal. However, 1xBet has way more additional possibilities for betting than its counterpart.
The same principle applies to basketball matches odds are not significantly different, but 1xBet once again offers more options for different types of options by overtimes, exact points, etc.
Stake vs 22Bet
These are pretty different. With Stake Bitcoin betting site, we already have an idea that a match between City and Dortmund, which takes place in April, is already available for betting and numerous predictions are already being made. At the present moment, 22Bet does not even show this game, let alone other Champions League games, which makes Stake a way better option for betting.
Both of these bookies feature eSports betting with Counter-Strike and Dota 2 dominating the field. There are no big differences in the offered games and odds, but 22Bet has slightly more additional options for betting.
As for basketball 22Bet has an advantage, in the regard that it offers slightly higher odds and more options for betting including by a particular team, quarters, and points.
Stake vs Sportsbet.io
These two are different as well. On Sportsbet.io like 22Bet the possibility to check odds for the upcoming City vs Dortmund match is not available at the moment. Stake crypto sportsbook is really nice in that regard. It seems that the former is more focused on matches that take place in the near future and not 2 weeks after. However, it could be regarded as a disadvantage.
As for basketball odds are not different. Though, Sportsbet.io offers more space for maneuvering in additional options. Compared to 40 betting options on Stake, Sportsbet.io has over 70.
The final discipline that we are going to compare is eSports. Both of these bookies are almost the same and offer the majority of eSports games to punters.
Sports You Can Bet on Live on Stake
If you have a desire to bet during the match, then use the Live Betting section of the site. The choice of events here is somewhat inferior to the pre-match line, but in general, it is able to satisfy the needs of most punters. The odds are automatically updated in real-time on Stake Bitcoin sportsbook, depending on what is happening in the matches. Unfortunately, the operator does not organize live video broadcasts, so you can follow the development of events only through the match tracker.
Live betting is a very nice feature that Stake has, but not for every sport. The ones it does have a live mode for are: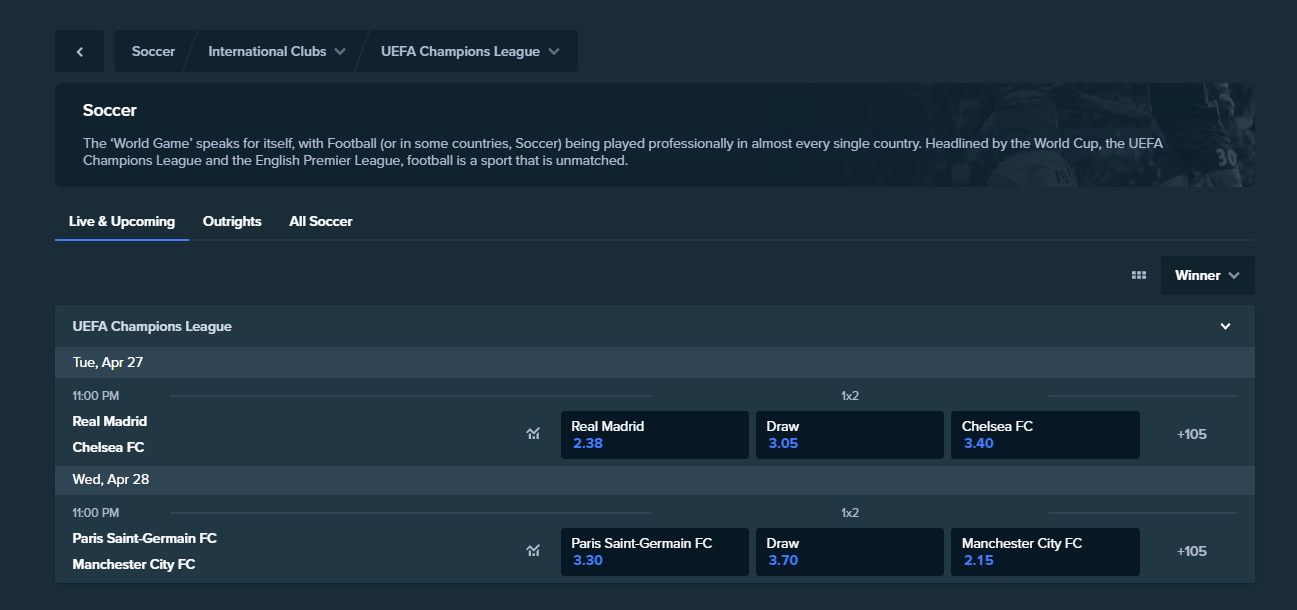 Football
Without much discussion, football is the most popular type of sport in the world. Be it pre-match or live betting in both of these categories punters tend to be very active, placing bets on different outcomes. On almost every bookmaker's website football is presented in rich fashion.
When it comes to live betting it is even more convenient to place bets, as a single moment can decide the whole outcome of the match. Even though the sport is divided into halves, still numerous options can be made. Stake Bitcoin bookie has perfect odds when it comes to live betting.
CS: GO
The outcome of a CS: GO match can be determined within the first 5 minutes of the game. It is very easy to spot key moments that give a team the advantage, which is why live betting on this game is such a good feature. Even if the result is not known in the starting period, still live betting allows players to change initial bets and place bets on the other team, though the odds will surely be different.
Tennis
As for tennis, we can point out the same similarities as in the case of football. Tennis is divided into several sets. If we are talking about Grand Slam tournaments the maximum amount of sets that can be played equals 5. It is a sport, where individual performance decides everything. Punters pay a lot of attention to tennis on Stake crypto bookie. It should also be noted that tennis players cannot count on their teammates and everything is up to them. Because of that, even a slight injury can change the general result of the game even if it is a favorite competing against an underdog.
Other Live Mode Sports Worth a Shot
Despite the fact that there are only 3 sports we mentioned worth your attention, there are other matches in a live mode that could be a good bet. Not famous for their popularity among punters, still a lot of players choose these disciplines, which are: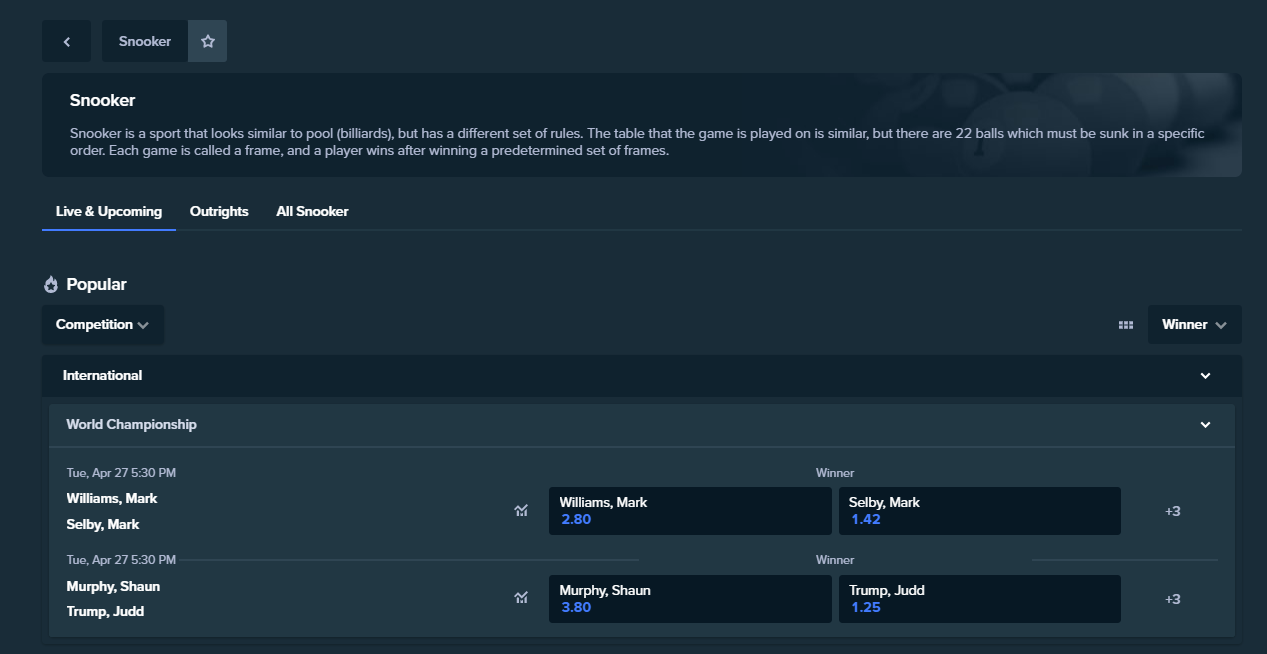 Ice Hockey
Compared to other sportsbooks, Stake has pretty good odds on this sport. The fact that hockey is popular among punters, is not argued. Hockey events are in the top line of many bookmakers. This encourages professional players to come up with better live strategies.
Common live bets on Stake Bitcoin bookmaker on hockey include total goals by quarters or on the exact result of a sporting event in live. At the same time, the injury of a particular athlete can lead to the fact that an underdog can put up some battle, so it is always a good idea to pay attention to ice hockey when it comes to placing crypto bets in live mode.
Snooker
Snooker is a type of billiards. Snooker is televised: almost all snooker tournaments can be watched live and naturally, bookmakers also laid eyes on the sport.
Analysis of the snooker line shows that the chances of players to win are exposed by bookmakers on the basis of statistics of personal meetings. Exceptionally face-to-face meetings. The statistics of personal meetings, of course, justify themselves, but there is no direct dependence. The first conclusion: the line of bookmakers on snooker does not fully reflect the real probability.
It is a very interesting sport to bet on and can be described very calming one as well.
Stake Bonuses and How They Work
The sportsbook doesn't have temporary nor the type of bonuses somebody may be accustomed to. There are 2 "free cash" bonuses that punters can take every 24 hours and that's pretty much it. The rest of the bonuses are mostly casino-specific.
The bookmaker Stake periodically holds some promotions for punters, but at the present moment, we have not found any on the site. But for existing customers, there is a large enough choice of different promotions, bonuses, and tournaments. You can follow their relevance in the promo section.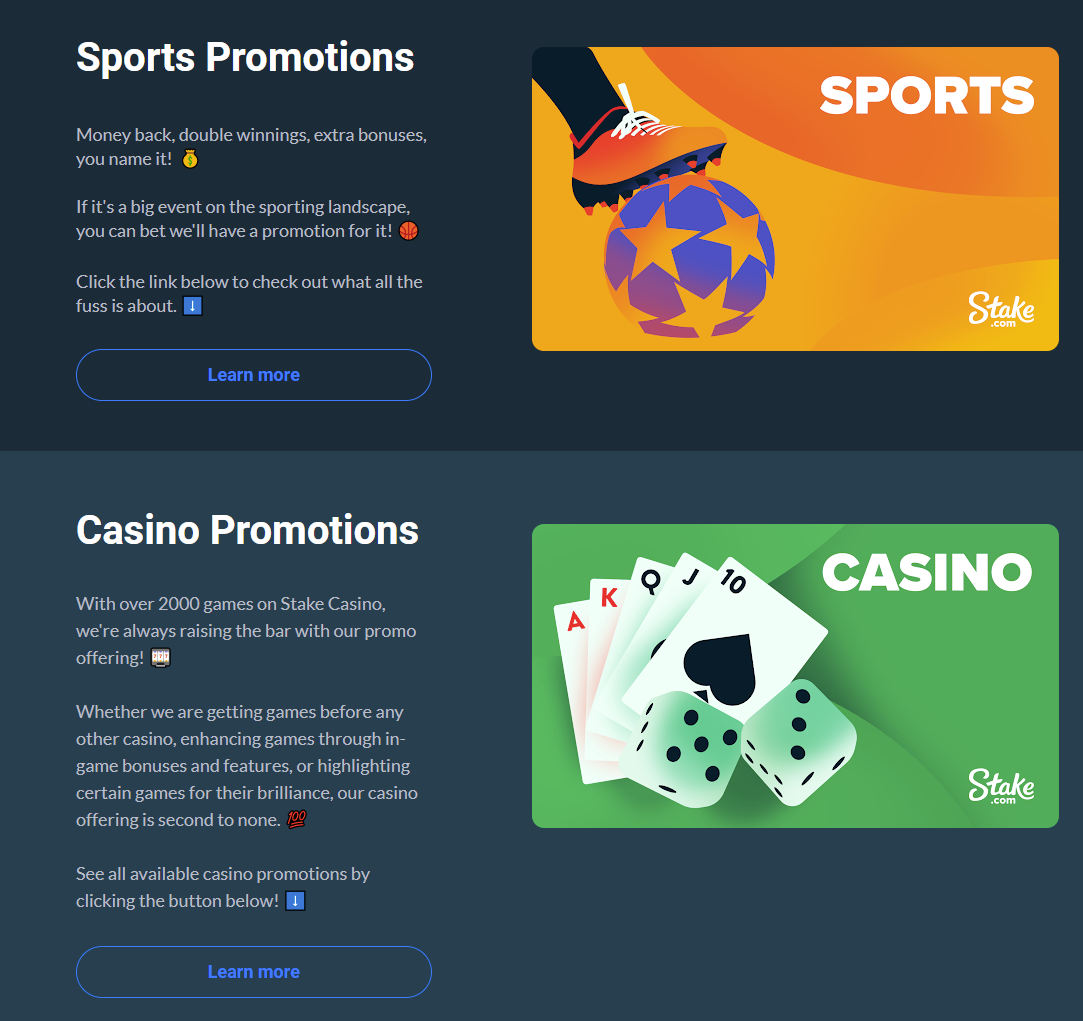 Raise Your Stakes and Register on Stake!
Stake is one of those platforms where it is difficult to detect any flaws. There are unique games, a fun community, and all your favorite sports. It allows you to make Bitcoin bets transparently, quickly, and without problems. The Stake.com support service does not wait long for a response. Operators work promptly and professionally, making every possible effort to help the customer.
To sum up, the following positives can be identified on Stake sportsbook:
Support for six cryptocurrencies
Variety of bonuses and promotions
Competent and responsive support service
We believe that Stake.com is a great platform for betting on cryptocurrencies and different sports.