Cloudbet Crypto Sportsbook – Reviewed & Rated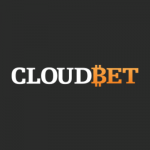 License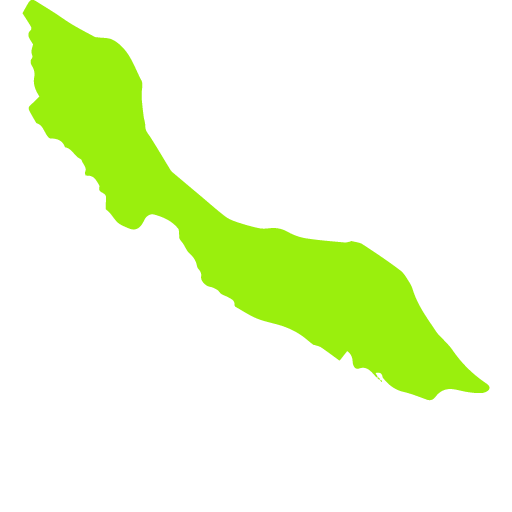 Tech Provider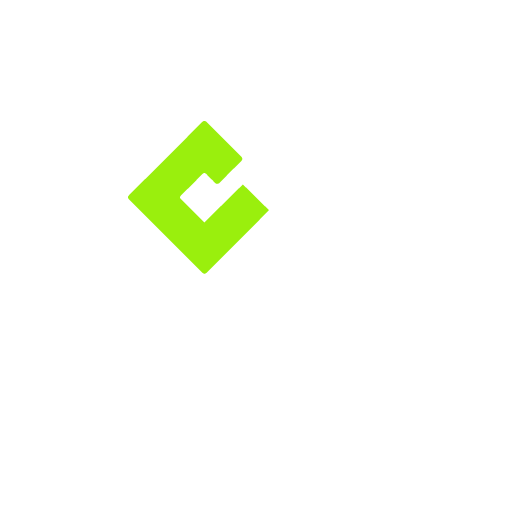 Formed in 2013, Cloudbet crypto sportsbook is one of the most reputable brands in the online gambling industry. The sportsbook is fully licensed and regulated under Curacao and Montenegro license the information about which you can see at the bottom of the official website.
Cloudbet is an exclusive crypto-oriented bookmaker, offering deposits and withdrawals in Bitcoin, Bitcoin Cash, Ethereum, USDT, DOGE USDC, PAXG, DAI, LINK, and PAX. Transactions with cryptocurrencies are convenient and anonymous. At the same time, they are executed more rapidly, compared to regular money. On Cloudbet there are no options for depositing fiat currencies. The bookmaker is only focused on cryptocurrencies.
Considering the essence of crypto casinos your privacy is ensured on Cloudbet bookmaker. You do not need to provide sensitive information and anonymity is maintained on the website.
The minimum amount of deposit you should make on Cloudbet is 0.001 BTC while the maximum one is not limited. Considering that there are other cryptocurrencies available for betting on Cloudbet crypto bookmaker, the limit could vary.
Bonuses are an important part of every online bookmaker and Cloudbet is no exception. Welcome Bonus is available for newly registered players. You can claim a 100% boost of up to 5 BTC on your first deposit, which should be a minimum of 0.001 BTC. Promotions are updated regularly and change all the time.
Cloudbet offers more than 20 sports for betting with different leagues. Soccer is without a doubt the most popular one, where players can place various bets on 100+ leagues from top to less popular ones. Matches take place every day so there is always something to look for in soccer.
On Cloudbet besides placing bets on different sports, you can also play various casino games, such as slots. The bookmaker offers this opportunity to have a large selection of games available for players. The software solution on Cloudbet Bitcoin bookmaker is SoftSwiss. Even though the bookie has existed for 8 years it managed to collect various awards and establish itself as one of the most prominent names in the industry.

20+ sports, eSports betting, various casino games, 9 different cryptocurrencies, and decent odds are what makes Cloudbet crypto bookmaker a popular option for players. A prolific 100% Welcome Bonus is also available for new players. Founded in 2013, Cloudbet is a completely legit casino, having obtained it from the Gaming Authority of Curacao.
The CloudBet Command Center – Easy Bets?
Cloudbet offers a huge variety of leagues to place bets on, but the top 5 European leagues have the most followers. It is simple to access the command center, choose a particular match, and start betting. The procedure is similar to the one existing in traditional online casinos and CloudBet Bitcoin sportsbook is no exception.
Here we have a match between Barcelona and Huesca, teams of Spanish top division La Liga. The odds are decent, considering that Barcelona are heavy favorites to win the game. Traditional options, such as total goals and the scoring of both teams are also available. As for other possibilities, there are myriad options for punters to make predictions. From a goalscorer to correct score and results by half-times everything is presented.
The options for betting are categorized on the Cloudbet website. Here you can choose between particular categories. Overall the freedom of choice is guaranteed and according to personal preferences, players can make bets with cryptos on everything they want.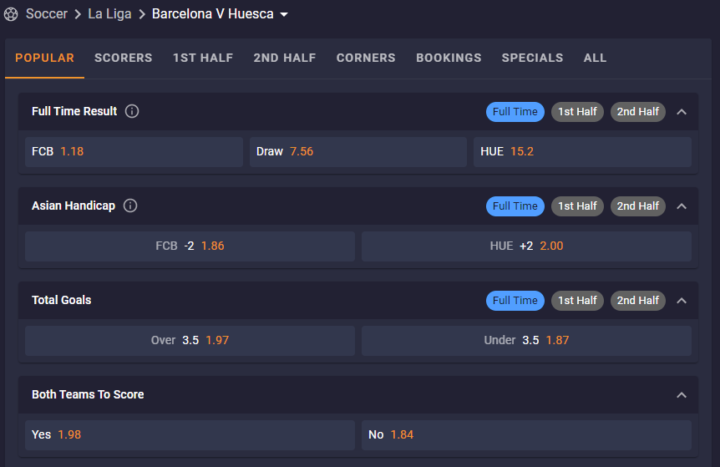 CloudBet vs Everybody Else – Do They Hold Up?
In order to have a real objective view, we need to compare Cloudbet crypto bookie somehow to other brands that are if not the same but similar quality. Comparison is always an important indicator because it helps players determine which crypto sportsbook to choose – what are the differences in bets and variety of sports.
CloudBet vs 1xBet
Cloudbet and 1xBet are almost the same. It is very hard to notice any difference. Both of these sportsbooks have similar sports and leagues available for betting. eSports discipline is also featured with numerous games.
If we compare odds for sports, the difference is so minimal that it is not worth paying attention to. In addition, both crypto bookmakers have numerous additional options except the main one, such as the exact score, handicap (including Asian), goalscorers. In-play betting is also supported so that if a punter misses his or her preferred game it is always possible to place bets live in both bookmakers.
CloudBet vs 22Bet
In contrast to the previous one, these 2 are pretty different. Even though odds are almost the same, with slight differences, 22Bet has way more additional options available for betting. For example, the same Barcelona-Huesca match offers over 1400 different possibilities on 22Bet for placing bets. The same can be said about eSports matches.
In basketball, there is the same exact situation as in soccer. On 22Bet there are over 400 different options for betting, while on Cloudbet it is limited. Of course, there are still a plethora of possibilities, but compared to 22Bet it is not as diverse.
CloudBet vs GGBet
Compared to GGBet, Cloudbet is better in terms of provided options for betting. On the former, you will not see an option of who will score a goal, while on Cloudbet Bitcoin bookie it is available. However, in eSports betting GGBet has a clear advantage and this bookmaker is one of the best ones in this regard. It should be noted that if we pick out a match from League of Legends, then it is possible to see a wide variety of options for betting, while on CloudBet it is limited.
3 Fan-favorite Sports on CloudBet
We have already mentioned in our review that there are over 20 sports available for betting from the most popular one which is soccer to less popular disciplines, such as water polo. The diversity of sports is pivotal to attract more customers. Not everyone follows only one type of sports and they also like to make predictions on the other ones.
By having a look at the website of Cloudbet bookmaker we can deduce that these are the 3 most popular sports for betting:
Let's delve deeper into each of them and find out what makes them so special on CloudBet crypto sportsbook.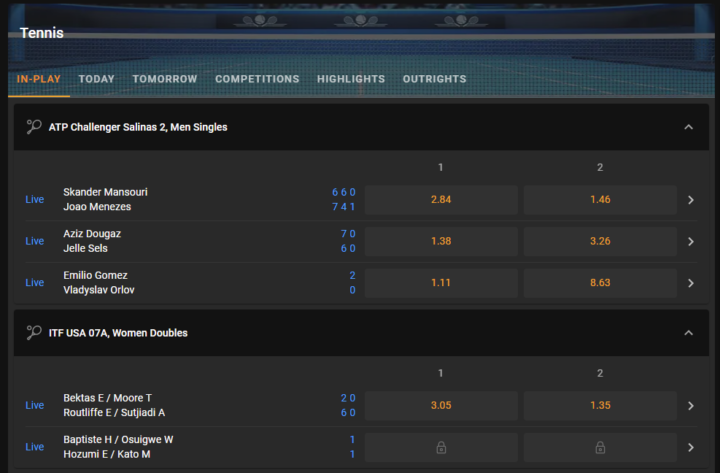 Soccer
Soccer is always the go-to option for sports betting sites – nothing too surprising as the popularity of this game has gone beyond reach. Almost every country follows soccer and it has millions of viewers. Soccer on Cloudbet is present in rich fashion. Not only you can place bets on major tournaments and leagues, but also minor championships. One of the greatest advantages of soccer compared to other ones is that matches occur every day so players can always find a game for betting.
Tennis
Considering that the website's homepage defaults to showing tennis matches, it's safe to say that it's one of the more popular sports on the platform. Besides Grand Slams and 1000 Masters, it is also possible to place crypto bets on Challengers. Like in soccer matches, in tennis, there are also additional options, such as the total amount of sets, handicaps, games, and breakpoints even, which are available on Cloudbet Bitcoin bookie. Matches take place frequently, while Grand Slam tournaments are held only 4 times a year.
MMA
It's quite refreshing to see MMA being featured so well on a very popular website. Without a doubt, the most popular league is UFC to place bets on. This is a place, where the world's greatest fighters gather and compete for titles. In addition to UFC, Bellator is also available, and compared to its counterpart it does not have that many spectators. Bets on these two leagues are diverse and decent odds are offered.
2 Unique Betting Options Available on CloudBet
Even though CloudBet is full of well-known sports types to bet on, there are some weird and unorthodox sports that we liked a lot. These 2 are Bandy and Squash. Most of you might be surprised hearing these names, but we will explain both of these sports thoroughly.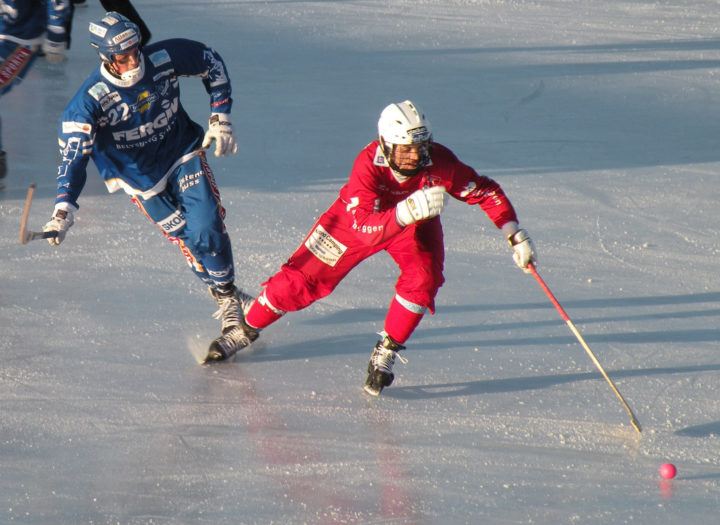 Bandy
Bandy is a winter team sports game available for betting on CloudBet crypto betting site played on an ice field involving two teams (ten field players and one goaltender each). Players use skates to move on the ice. Field players, using sticks, try to score the ball against the other team. The goal is guarded by goalkeepers who do not use sticks. The duration of this game is 2 halves of 45 minutes; under unfavorable conditions by the decision of the referee – 3 halves of 30 minutes. The winner is the team, which during the game managed to score more goals in the opponent's goal.
Bandy is something very similar to ice hockey, but much less popular. So it's interesting to see it featured on such a large platform.
Squash
Squash is a game mostly played during family outings, so it's kind of weird to see it featured in professional sports, especially for betting on Cloudbet Bitcoin betting site.
Squash is a sports game played by two people on a small court with special rackets and a small rubber ball which when hitting the wall literally flattens.  Squash is reminiscent of tennis. The main feature of Squash – one game space for two.
Players alternately hit the ball in the front wall of the court. The main task is to force the rival to make a mistake and miss the blow. Everything happens at high speed. As a rule, the game is broken down into three to five games. The score in the game is up to 11 points.
Gifts Upon Gifts – CloudBet Bonus Features
Of course, we cannot neglect the bonuses that Cloudbet offers to its users. Nowadays it is practically impossible to think of an online sportsbook that does not provide clients with incredible promotions. The bookie is no exception and is determined to please players with astonishing Cloudbet bonuses.
Welcome Bonus
This type of Cloudbet bonus is typical for most online crypto casinos and the chances that you will see it featured on different websites are high. Cloudbet Welcome Bonus is pretty much the same as the other ones. For the first deposit, you get a 100% boost of up to 5 BTC and equivalent in other cryptocurrencies. Although, there are some details to consider.
First of all, there is a minimum amount required to be eligible for the bonus. Players should make a deposit of 0.01 BTC minimum. At the same time bonus is earned when you collect loyalty points. These points are awarded when you place bets on sports and casino games. For example, when you collect 800 points, 0.01 BTC is given to you. The same concept applies to other cryptos.
This Cloudbet bonus works equally in sports betting and live casino games. Feel free to withdraw bonus funds at any time, as soon as they appear on the balance.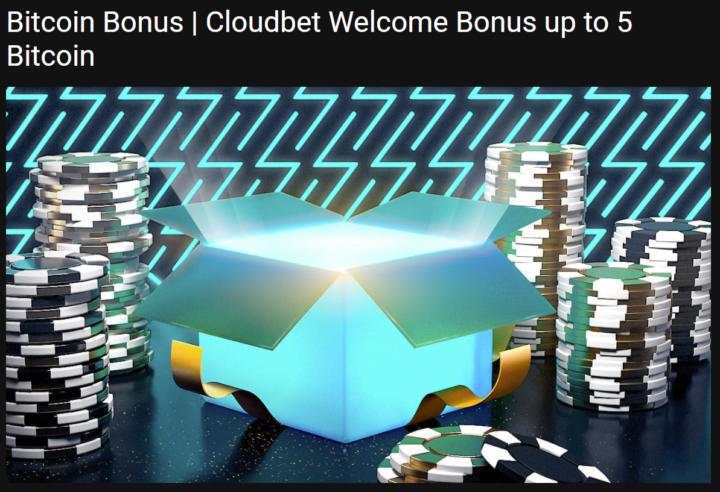 Weekday Bonuses
Weekday bonuses are also available. Mega Match Mondays bonus gives a 50% reload bonus of up to 25 mBTC every Monday. In order to be eligible for the promotion, a minimum of 1 mBTC is needed. Also, the maximum bonus that you can receive is 25 mBTC. It is necessary to point out that the bonus must be activated. Otherwise, you will not be able to use it. Meeting the 30x wagering requirements is pivotal. In simple words, you must wager your funds 30 times to withdraw them.
Turbo Thursdays award players with a 50% reload bonus of up to 50 mBTC when you deposit on Thursdays. Almost everything is similar to the previous bonus and you should request it from the Cloudbet bookmaker's customer service. After activation, you have only 2 days to use the bonus or it will be declared void.
Zero-Margin Bets
Zero-margin bets grant players the opportunity to enjoy fair pre-match odds on a specific event. Events that are highlighted with yellow boxes are the ones with zero margin bets. The bookmaker will offer zero odds to 1000 customers only.
Participating in this promotion is possible for every player who has a valid Cloudbet account. For different sports, Cloudbet will have various margins on match results, total goals, run line, etc. It is necessary to read the information in advance for a particular sport.
From zero margin bets, punters cannot collect loyalty points and only one account per player is permitted.
Become a CloudBet Member Today!
We have finally come to the main point of our review – should you register on Cloudbet crypto bookmaker? Based on a huge selection of sports and esports betting in addition to casino games, hefty bonuses, and decent odds, Cloudbet is indeed a brand that can guarantee the best experience to its customers. Furthermore, it is a completely licensed bookmaker, which guarantees the fairness of odds and safety of funds and personal information.
Therefore we recommend signing up on this bookmaker's website as soon as possible. You will have an amazing chance to place bets with different cryptocurrencies and maximize your winnings!
FAQ on Cloudbet Review