Rivalry Review – A Place for Punters and Gamblers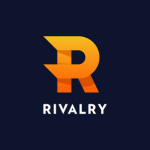 License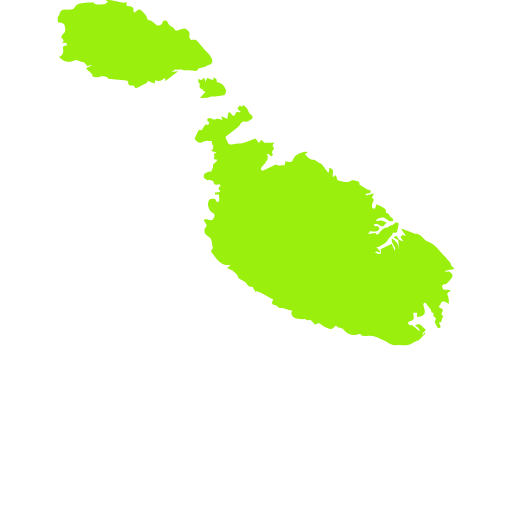 Tech Provider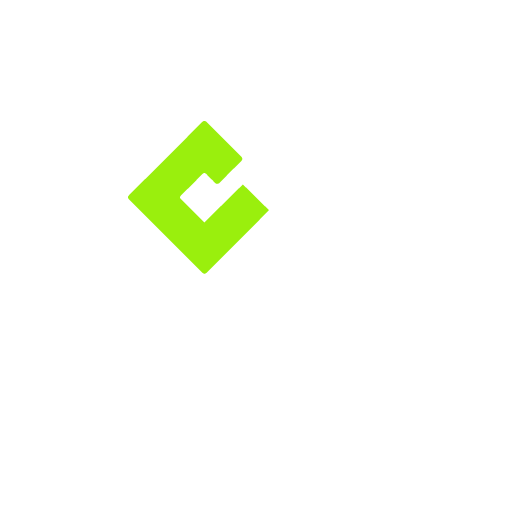 Launched in early 2018, Rivalry crypto bookmaker is one of the most renowned brands in the crypto gambling industry. The company is registered in the Isle of Man, the license for the activity is obtained there. Even though it is a fresh operator in the industry, the company offers numerous benefits to its users.
The revolution that cryptocurrencies managed to accomplish in sports betting, is also visible in Rivalry. At the present moment, the operator offers payments with Bitcoin but in the future plans to incorporate additional options. Besides, they allow deposits and withdrawals with a myriad of different options, which are usually fast and free.
Rivalry is not in the ranks of anonymous bookmakers, even though payments with Bitcoin are supported because you are required to go through the verification process, where providing ID is essential. The bookmaker wants to have additional information about clients, thus personal data is necessary. Also, it is impossible to withdraw winnings on Rivalry crypto bookie if you are unverified.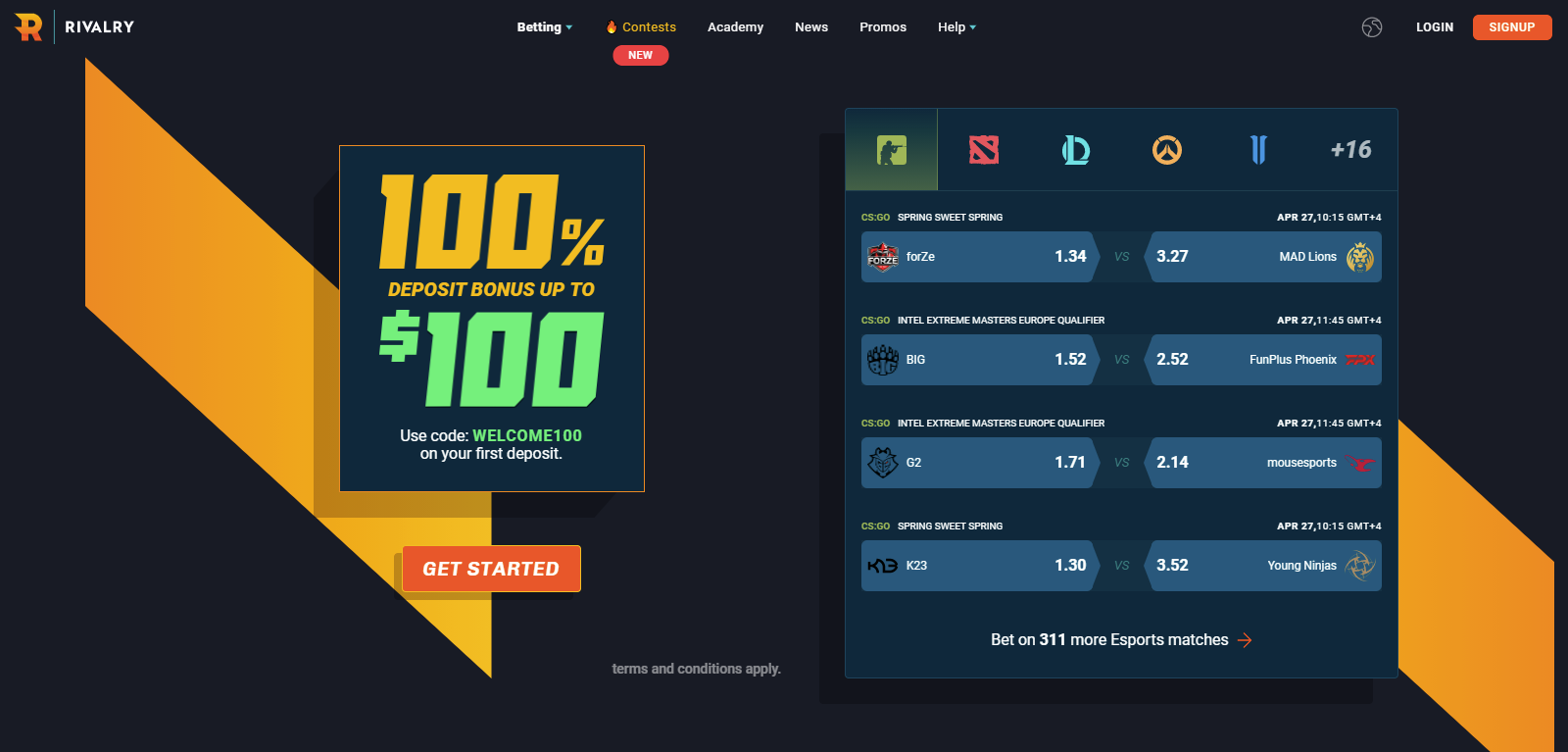 Even though you do not need to deposit a minimum amount of money before opening an account, still there is a requirement for both unverified and verified users to deposit at least $15 to start playing.
The only bonus that is available on the bookmaker's website is a Welcome Bonus. You get a 100% Deposit Bonus of up to $100 which is subject to the wagering requirements.
Initially, the bookmaker offered to bet only on esports events. This was basically a niche that the website focused on. League of Legends is the dominant game for which they have almost 13 different matches can bet on daily. Also, visitors could make bets on streamers. Since 2020, sports betting (basketball, hockey, tennis, football, etc.) has been added. Several interface languages are available on the bookmaker's official website.
Rivalry Bitcoin bookmaker does not have casino games available for players and it is only aimed at players who are placing bets on different disciplines.
Placing Bets on Rivalry – Information Galore
They have an amazing dashboard for betting. It's pretty good for live bets, gets updated in real-time, and actually shows the number of people betting on each of the teams. It's an amazing tool. Considering that the bookmaker is primarily focused on eSports we will pick a game from the list and revolve around the match.
Here we have a CS: GO match between Movistar Riders and Case. From the first look, we can already determine that the visual side of the website is excellent. They have nice colors and a good user experience. Odds are pretty decent because Movistar Riders are considered favorites for this matchup. Furthermore, you can also see the bet distribution – which prediction is the most popular among punters.
As eSports on Rivalry Bitcoin bookie does not have as many options as sports betting, we can assume that the provided possibilities are enough for punters to make predictions. It includes of course a match-winner, handicap, odds by maps, etc. Everything is created in a way to make life easier for customers.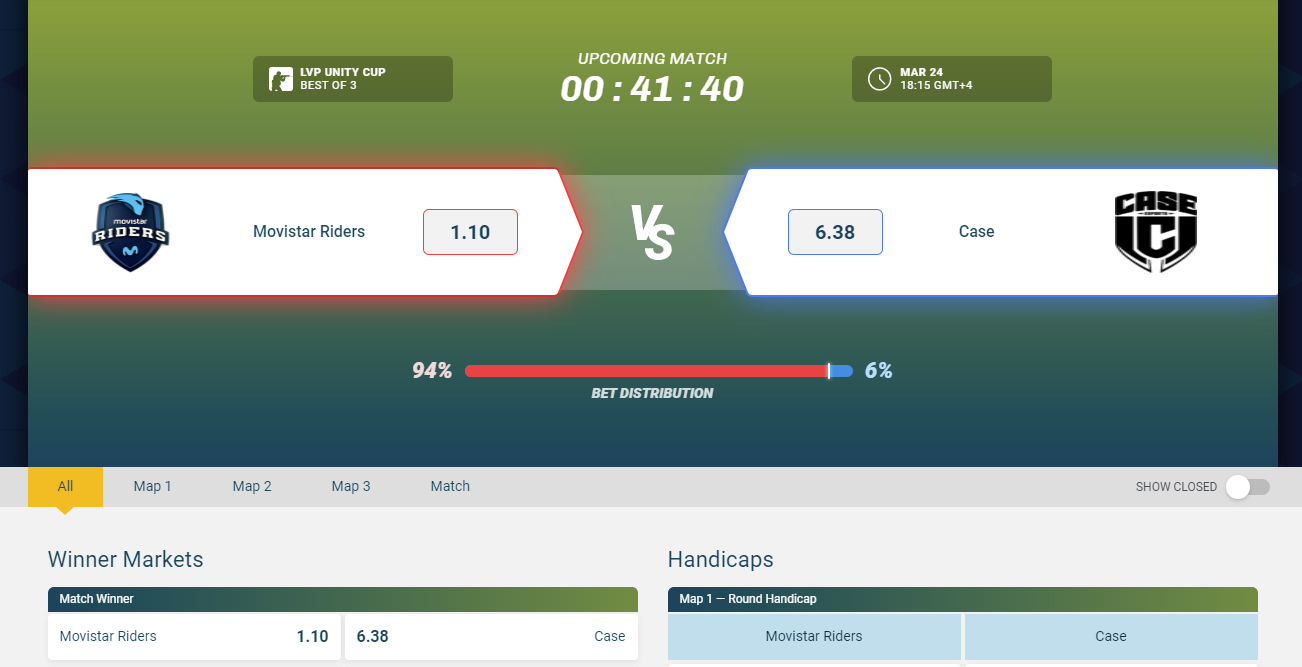 Rivalry Compared to Other BTC Sportsbooks
Now we should definitely compare Rivalry with other operators to have an objective view of whether it is a good crypto bookmaker. Considering that in the modern period more and more crypto bookies are adopting eSports betting, there are some good betting sites worth mentioning. We can compare them by 3 different disciplines.
Rivalry vs GGbet
We can start the comparison from soccer. Here GGbet has a clear advantage. First of all, it has way better odds on both teams, and at the same time, GGbet has a large selection of additional options for players to make their predictions on. It has a clear advantage in this regard over Rivalry crypto sportsbook.
With eSports, it is really hard to say directly which one is better because different competitions have different odds and various additional possibilities. In one match GGbet might have a lot of options to bet on and on the other hand Rivalry might have an upper hand.
As for other sports and in this case basketball, GGbet is without a question better and it is not a surprising fact, because as has already been mentioned above, Rivalry since its inception was focused on eSports betting and barely offers other sports.
Rivalry vs 22Bet
In the eSports section, both of these bookmakers are pretty much equal. Matches are present with different options and CS: GO is the most dominant one on 22Bet. With Rivalry Bitcoin sportsbook, it is League of Legends. Odds do not differ notably as well as additional options.
Like in the case of GGbet, in various sports, 22Bet is a clear favorite and better bookmaker to place bets on. If you were to select tennis, basketball, soccer, or any other sports discipline you should definitely go for this bookmaker. Even though we have some options on Rivalry, they are not enough for the general picture.
Rivalry vs CloudBet
Rivalry is better than CloudBet when it comes to bets on the eSports discipline. Here the bookmaker ensures to provide all games and options for punters, while CloudBet has some of them missing and additional options are not enough to satisfy the needs of eSports-lovers.
Soccer betting is slightly better on CloudBet. From the inexperienced eye, it is really hard to notice any difference between Rivalry Bitcoin betting site and CloudBet, but first of all, options are more to bet on and at the same time leagues and competitions are numerous to choose from. As for other sports disciplines, you won't really notice any differences and these 2 are pretty much similar.
Top eSports on Rivalry
eSports is a discipline that is gaining popularity with fans of computer games from year to year. For example, one of the largest Steam platforms offering players to play Dota 2, CS GO, PUBG, and hundreds of more games, is increasingly gaining 20 or more million players online. Together with the popularity of eSports and recognition of it as an official sports discipline in many countries, bets on eSports are increasingly in demand.
Rivalry is like a gamer's paradise. Almost all eSports are featured here. 3 sports that are most commonly known as the ones, where punters place bets are:
CS: GO
League of Legends
Dota 2
Let's have a closer look at these games on Rivalry crypto betting site.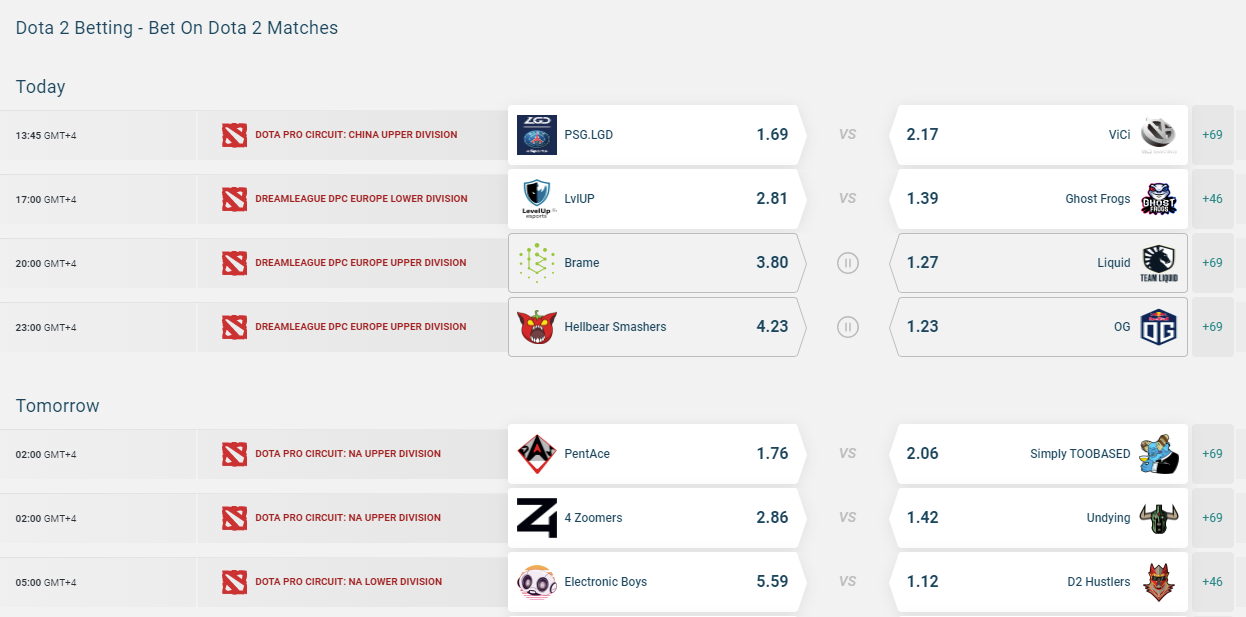 CS: GO
CS: GO is a multiplayer first-person shooter. Players play as terrorists or special forces (counter-terrorists) in the format of 5×5 people. Performing various tasks such as planting or defusing a bomb, as well as killing the enemy brings players money.
The competitive game goes for 30 rounds, a maximum of 1 minute 55 seconds each. The first team to win 16 rounds wins the game. To win an entire match, the team will usually have to win two of three or three of the five games. Bets offered on Rivalry are unique and you can make predictions on maps, kill, and of course the general outcome. Live betting is also possible.
League of Legends
League of Legends (LoL) is one of the most popular online team games, belonging to the genre of combat arena (MOVA). LoL matches on Rivalry sportsbook involve two teams of five players, each of whom summons the champion to compete on the same map.
The team's goal is to destroy the enemy base, which is located in foreign territory. Betting on a particular team, you need to consider which champions the players use.
You need to assess the abilities of the players themselves, the strengths of the champions, which they control, as well as the chemistry of the team, its ability to combine champions in strong conjunction. For example, Caitlyn, known for her ability to destroy turrets at the beginning of the game. Olaf is good for quickly killing dragons.
Rivalry offers decent odds and possibilities on League of Legends and it is definitely one of the most preferred options for players.
Dota 2
No less popular multiplayer online team game in the genre MOBA, developed by Valve Corporation is Dota 2. It is a perfect game for betting on Rivalry crypto sportsbook. The main task of the game – to destroy the strategic building on the basis of the opponent.
It is protected by defensive towers located along three lines connecting the bases of the teams. Players are divided into two warring factions, which consist of five players. Just like in LoL, in Dota 2 you have to bet based on the capabilities of the characters used.
It is necessary to assess the team's past experience, hero selection, and combination. If you see that two strong teams have entered the fight, which have the optimal build, it is worth thinking about the bet for the number of minutes – more than 48.
The Only Bonus Available on Rivalry
At the present moment, the only available bonus on Rivalry is the Welcome Bonus, which can be claimed by newly-registered players, giving them a 100% boost of up to $100 and equivalent in Bitcoin. To be eligible for Rivalry bonus a player should deposit at least $15 (maximum $100) and use a promo code WELCOME100. It is possible to use the bonus for any game and of course, eSports betting is no exception. One thing that punters should keep in mind is the wagering requirement. In order to make bonus funds available for withdrawing, it is necessary to wager them at least 5 times.
There is also one more thing requiring attention from players. The minimum bet eligible for bonus funds is 1.5. If a player makes several predictions on one game only the first bet will count towards the wagering. The bonus funds balance will never be larger than the initial bonus amount. Every player has 30 days to wager the bonus money 5 times. In other cases, it will expire. Of course, players should not forget to enter Rivalry promo code to claim the promotion.
This offer cannot be combined with other promotions, can only be claimed once per player and Rivalry has every right to cancel or alter terms and conditions of the bonus without prior noticing players.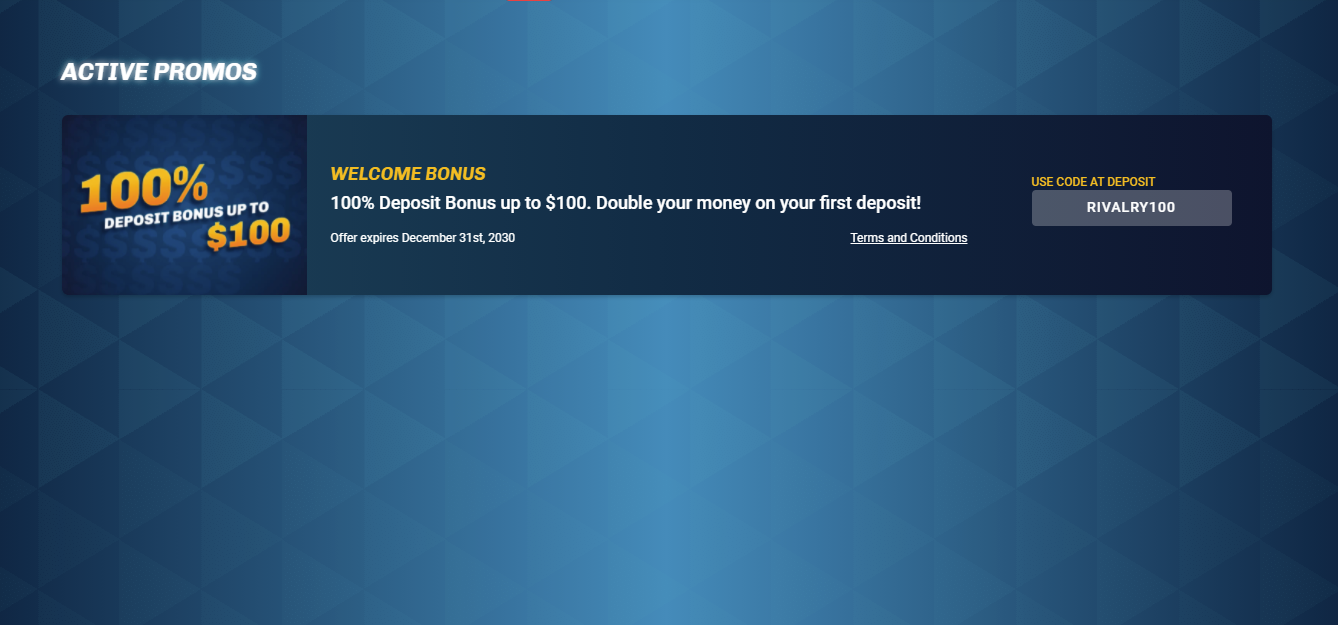 Start Betting on Rivalry Today
Even though Rivalry only supports one currency and lacks comprehensive sports betting, the crypto sportsbook does its job best, for which it is primarily created for – eSports betting. Here you will find every game and tournament and the possibility of placing additional best is also vast. We should also point out that a unique Welcome Bonus will allow players to earn even more.
The design of the website is really nice and the navigation is simple. At the same time, besides fiat currencies, you can start betting with Bitcoin, which is famous for its speed, anonymity, and zero commission fee.
We definitely recommend all players start playing on Rivalry Bitcoin bookmaker as soon as possible. An incredible mix of eSports games and sports betting will leave everyone satisfied!
FAQ on Rivalry Review