Crypto.Games Casino Review – Dive Into Exciting Crypto Games

License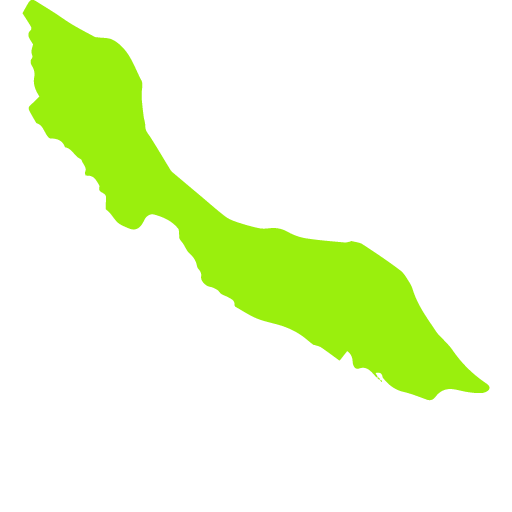 Tech Provider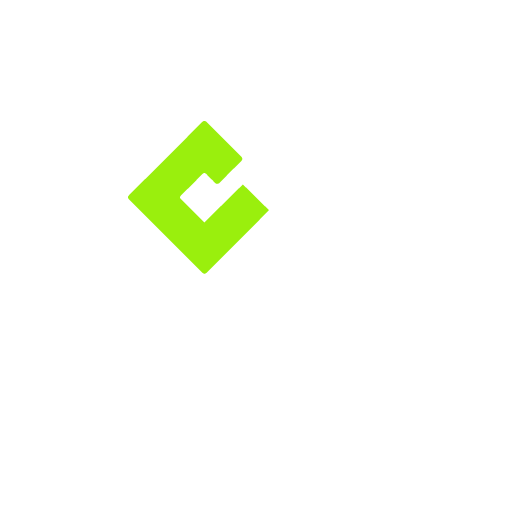 Crypto.Games is an exciting destination for every punter who wishes to experience high-class crypto games and extremely lucrative promotional offers. Therefore, we are seeing a massive engagement of punters from all parts of the world here and we would like to create a guide where you will learn about the most essential characteristics of this casino. For starters, we want to point out that Crypto.Games is an entirely licensed platform and a well-known company MuchGaming B.V. is responsible for regulating it. This organization is addressed at Fransche Bloemweg 4, Willemstad, Curaçao and it operates Crypto.Games under License No. 8048/JAZ issued to Antillephone. As you can tell, this platform is regulated under the laws of Curacao which automatically means that Crypto.Games is a completely reliable and trustworthy place. This means that every player will be able to reach out to regulators and make them involved in your dispute in case you run into some kind of unlawful behavior on their end. 
When it comes to the game department, we have to note that you will not come across more than 8 games in this casino which can be quite upsetting for some people. On the other hand, all these games are constructed with top-class visuals and straightforward playing mechanics in order to make your gambling time exceptionally memorable here. Crypto.Games includes the following titles Blackjack, Roulette, Dice, Minesweeper, Video Poker, Plinko, Lottery, Slot, and Dice V2. As you can tell, the platform allows every gambler to enjoy the most frequently played games, however, it would still be a good recommendation for them to expand this list in order to attract an even larger audience.
Even though the game lobby is small, we want to highlight that every title includes provably fair technology that certainly meets the industry standards. By doing so, they make it possible for you to verify drawings via any kind of third-party verification tool and be assured of 100% fairness. It is of the utmost importance for Crypto.Games to provide an entirely secure and transparent gambling experience for every customer and provably fair technology utilizes highly sophisticated steps in the process to ensure this.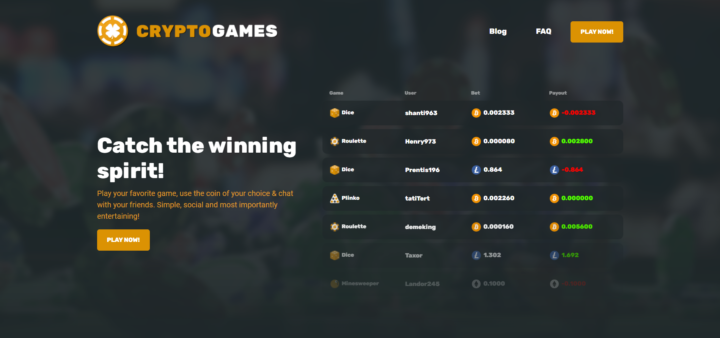 As for the transactions, we want to outline that you are dealing with a completely crypto platform as there are no traditional fiat currencies presented in the available payment options. The name itself says everything about this matter and there is a total of 10 cryptos accepted by this website including Bitcoin, Bitcoin Cash, Monero, Dash, Ethereum, Ethereum Classic, Litecoin, Dogecoin, Gas, and Stratis. Are you a crypto lover and want to dive into high-quality games? Then Crypto.Games is an excellent destination for you and what's more, there are all kinds of beneficial qualities provided by crypto transactions.
Cryptocurrencies guarantee completely safe payments that take place in a split second and with very limited fees for withdrawals. So, it comes as no surprise that so many punters have switched to crypto gambling and this is the major reason behind the popularity of Crypto.Games. Even though this casino does not provide fiat transactions directly, users are still able to utilize a third-party method called Onramper integration to do so.
One more exciting attribute of Crypto.Games is that you will run into several innovative promotional offers here that are completely different from what we see in the majority of traditional casinos. This once again underlines the advantageous side of crypto gambling since there are far more proposals for crypto users compared to fiat ones.
Here, you will have a chance to enjoy various features such as the rainbot and Faucet bonus model. The first one includes pretty exciting ways to provide prizes to players as you have to gather as many players as possible in the game chat and you will be eligible for a giveaway every 10-60 minutes depending on the quality of messages. As for the second one, the Faucet bonus model has the ability to give a specific amount of Satoshis in the range of 1000-20.500 for every player every three minutes. The main purpose of this is to help you better acquire the working mechanism of the casino and games in general. It's pretty clear that you will not have such kinds of possibilities on most platforms, so you should absolutely take advantage of these offers as soon as possible! 
There are a lot more opportunities waiting for the most loyal and devoted members of Crypto.Games as it includes a highly appealing VIP membership program. This program comes with tremendous benefits that will certainly take every player on an amazing gambling adventure and in order to get eligible for this one you need to earn one of the top spots at their monthly wagering contest.
The current offer is available for the top five players on the leaderboard for Bitcoin and Ethereum, the top three users for Litecoin, and the top gambler for the rest of the coins. We will list all the advantageous perks of this VIP membership program in the below parts of the article, but every user should know that it is essential to take part in such a lucrative proposal since the rewards will be huge at the end of the day. 
We can strongly conclude that Crypto.Games is an entirely reliable gambling platform that promises every customer to experience a high-class playing atmosphere and process 100% safe transactions. The trustworthiness of this casino is induced by the fact that the top regulator is responsible for licensing it. MuchGaming B.V. company operates under the laws of Curacao for a long time and as a result, it has earned a pretty reputable name, so you don't need to worry about possible fraud or manipulation when gambling on this website.
Moreover, safety is also guaranteed in every game here since they all include provably fair technology that makes it impossible for casinos to cheat on you and manipulate the results of the round. Also, being an entirely crypto platform, you have the possibility to provide highly protected payments since it is well-known that cryptocurrencies utilize blockchain technology in order to provide secure transactions every time! 
What Games Can You Play on Crypto.Games?
As we have already mentioned, the total number of games on this platform includes 8 Dice, Roulette, Blackjack, Video Poker, Minesweeper, Plinko, Lottery, DiceV2, and Slot. Although this number might seem very low to the majority of visitors, we want to highlight that every game will give you enormous enjoyment due to their high-class graphics and enchanting visuals. The developers have worked hard to establish a captivating playing environment that will make every punter engaged in the game for a long period of time. So, by doing so, Crypto.Games definitely makes up for the lack of a game lobby as customers will experience unique and memorable gambling on this website. Down below, we would like to describe the characteristics and playing mechanism of the games you encounter here!
Dice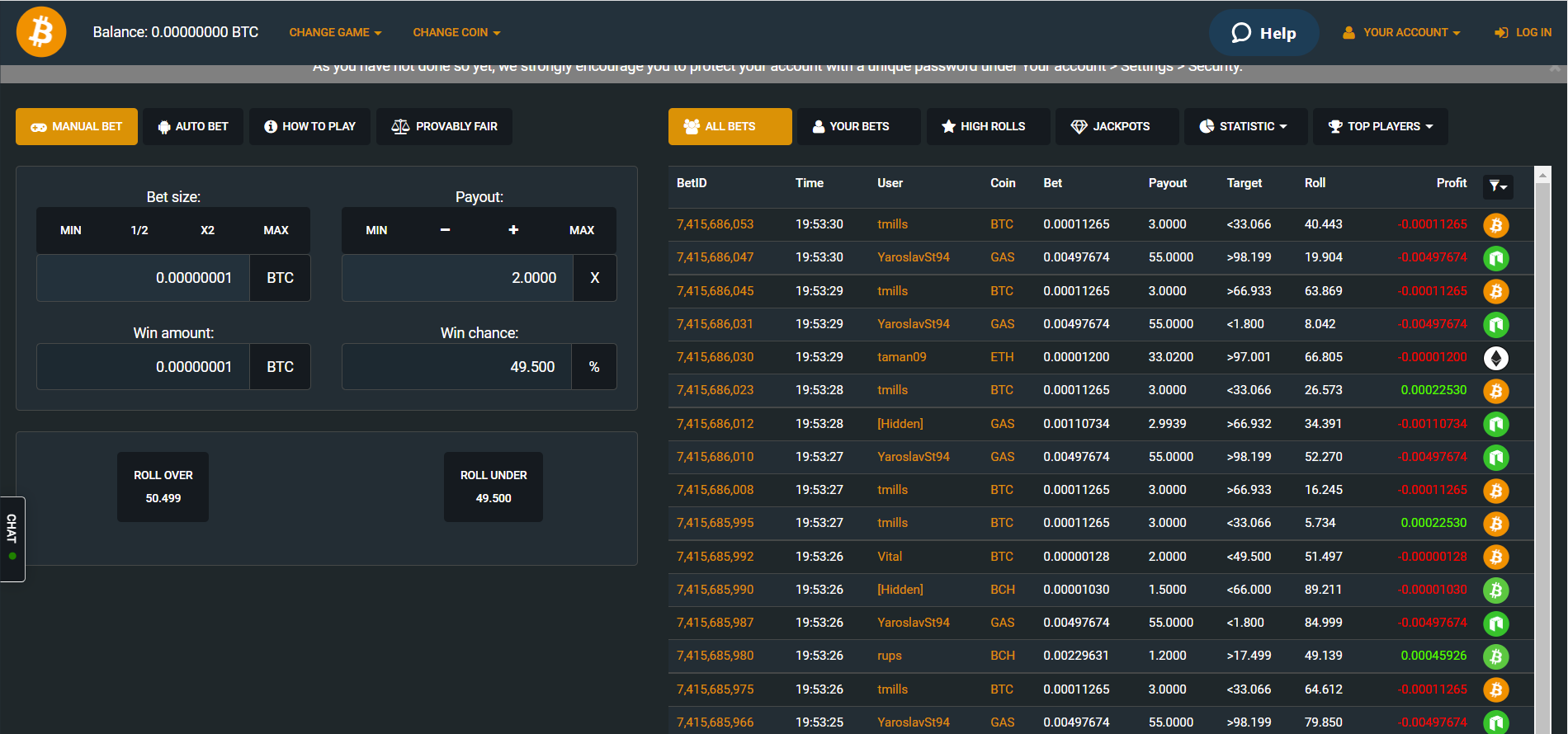 Dice is a very popular game in the whole gambling world that includes extremely straightforward game mechanics in order to generate a lot of money. However, you will not encounter a standard playground here where there is a cube with numbers on every side. Instead, there are only buttons presented in this version and your main goal is to predict accurately whether the number depicted on the dice will have a certain value. As soon as you enter the game you will see two buttons below featuring the usual numbers Roll Over 50.499 and Roll Under 49.500. You have a chance to modify the settings and choose your desired amount of bet size that will alter the payout accordingly. This edition is highly enjoyable for crypto lovers and therefore, it is the first one displayed on the Crypto.Games website.
Roulette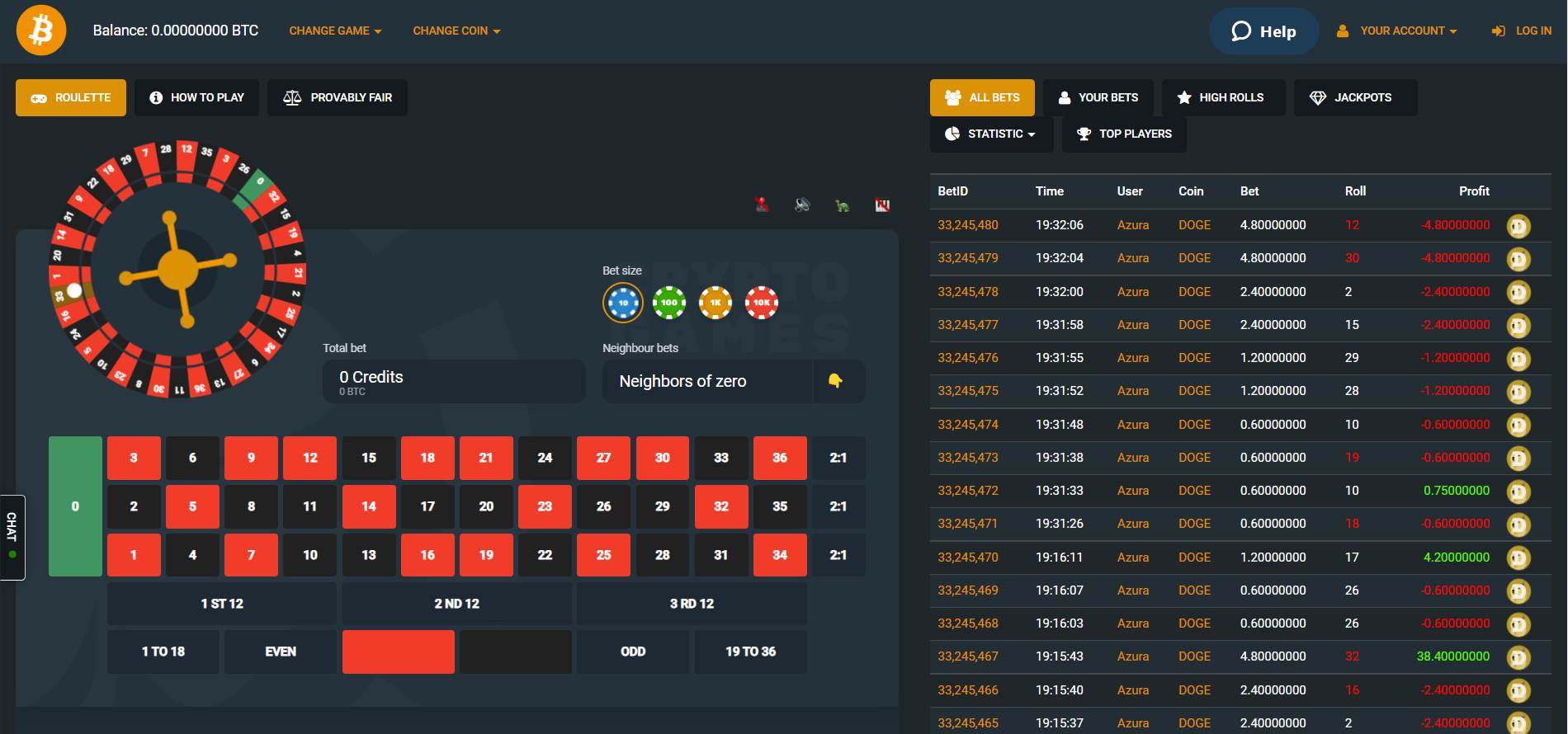 The popularity of Roulette does not require any explanation since this game existed way before there were any online gambling platforms in the world. The developers have tried to establish an exciting crypto Roulette variant that includes a highly straightforward interface and simplified gaming mechanics. There are a lot of versions of this game and Crypto.Games feature a European one where there is a standard wheel of 37 numbers and one zero. The main objective in this game is to correctly guess what numbers will be generated on this wheel and moreover, there is a possibility here to win the progressive jackpot. Hence, all the fun is waiting for you in this simple yet appealing game on the Crypto.Games website.
Blackjack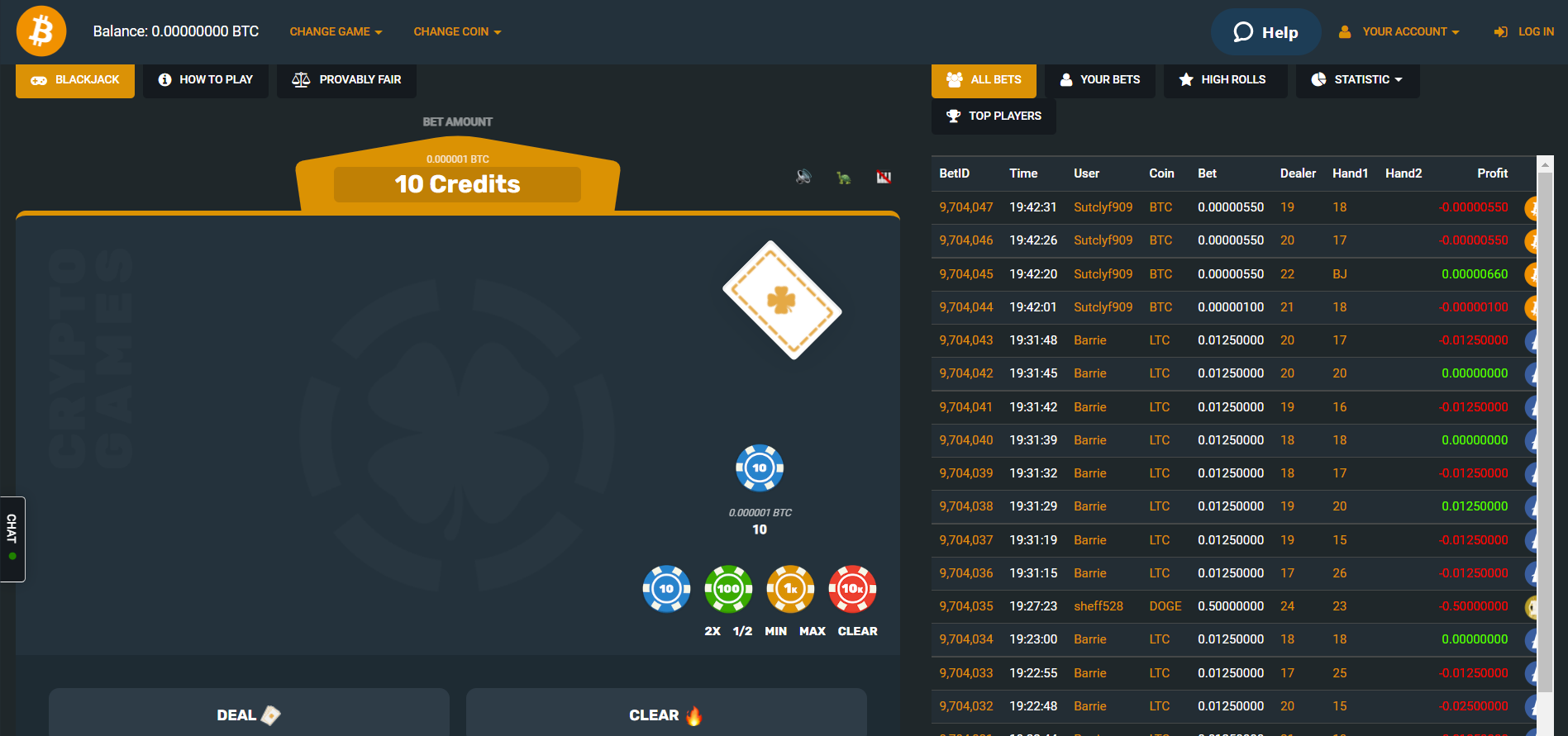 Blackjack also does not need any explanation as it is one of the most famous live casino games in the gambling world. The popularity of this game is mainly induced by its simplified playing mechanism and possibility to win a lot of money momentarily since every Blackjack variant features RTPs above 98%. If you are not familiar with the rules, the game is processed in the following way every player including the dealer gets two cards and their values are summed up on the screen, then you have a chance then to hit other cards and the main goal is to reach the number 21 or as close to it as possible. Also, you need to collect the value higher than the dealers in order to beat him and win money, but, keep in mind that if you exceed number 21 your hand will be busted instantly and the round will be lost.
Minesweeper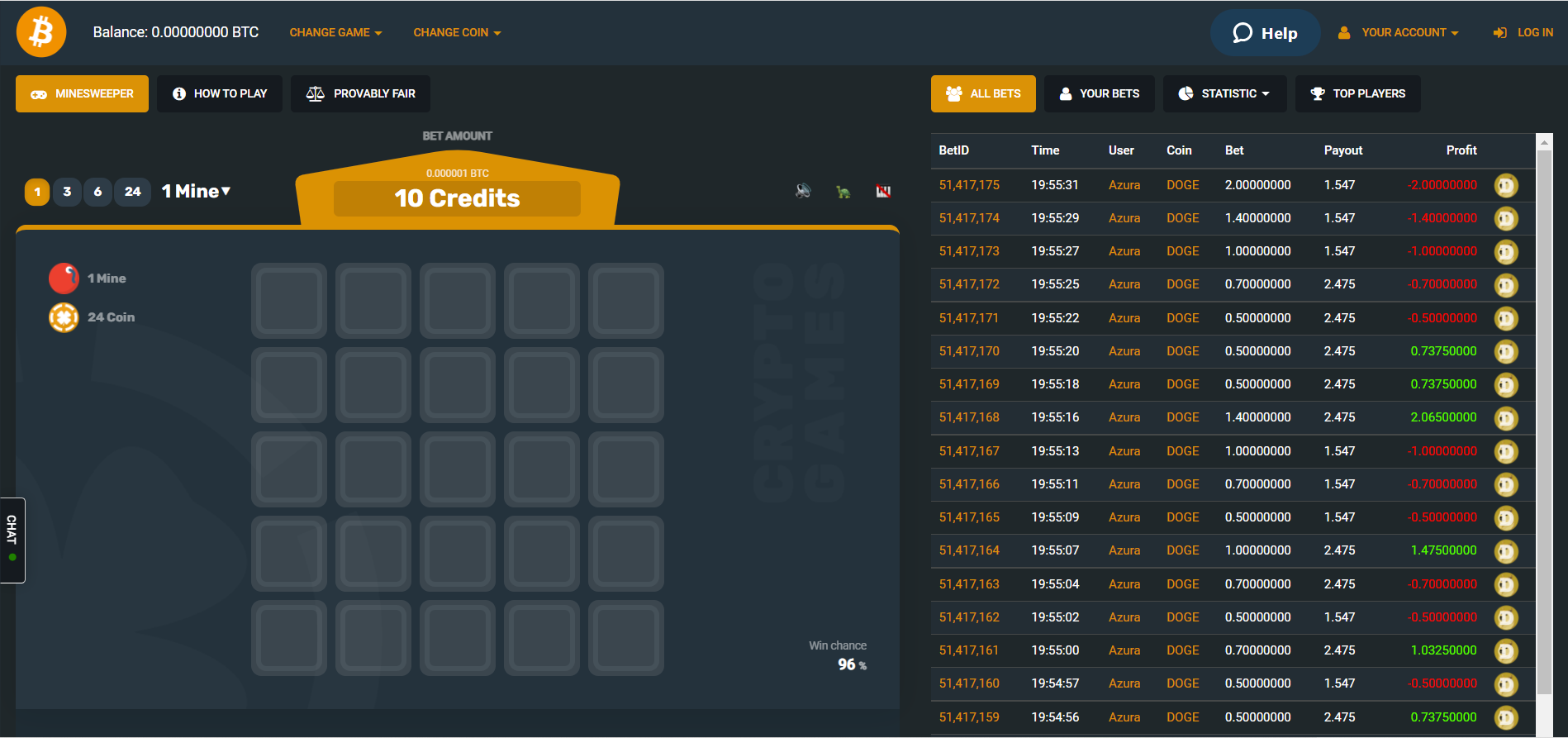 Minesweeper is one more well-known game in the world that every person has played it at least once in their lives since. This game was implemented in the old versions of operating systems, so people were playing it with the first-ever computers and they are well aware of its mechanism. The rules of the crypto game that you find on this platform are very straightforward as well and your main goal is to open boxes that don't contain mine inside. As long as you succeed in this task, your bets will be increased accordingly and the round will be lost as soon as you encounter a mine. Players have a chance to alter the settings and select the desired number of mines and the size of a playground. By doing so, the number of prizes will be increased accordingly and you will be rewarded tremendously in the end.
Video Poker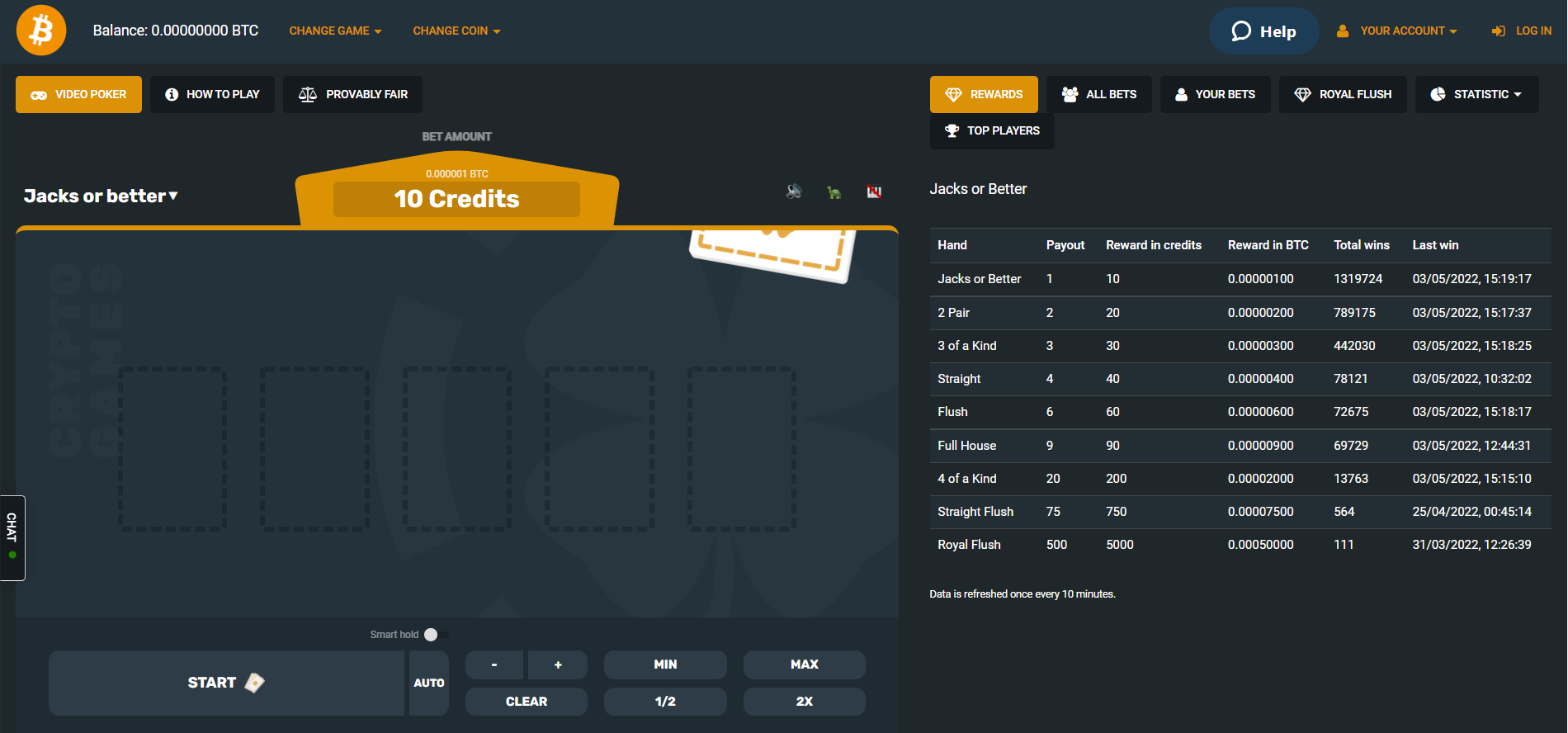 The Video Poker game of Crypto.Games is built using the elements of a five-card draw. This platform is offering you three variants of poker games jacks or better, bonus poker, and tens or better. it is very simple to play all of them if you are familiar with the general rules of poker. The first step includes providing a desired amount of bet, then you will be dealt five cards and the main objective is to generate winning combinations with these cards. In case you wish to keep the displayed combinations, you have to press the Hold button and gamble with them accordingly.
Plinko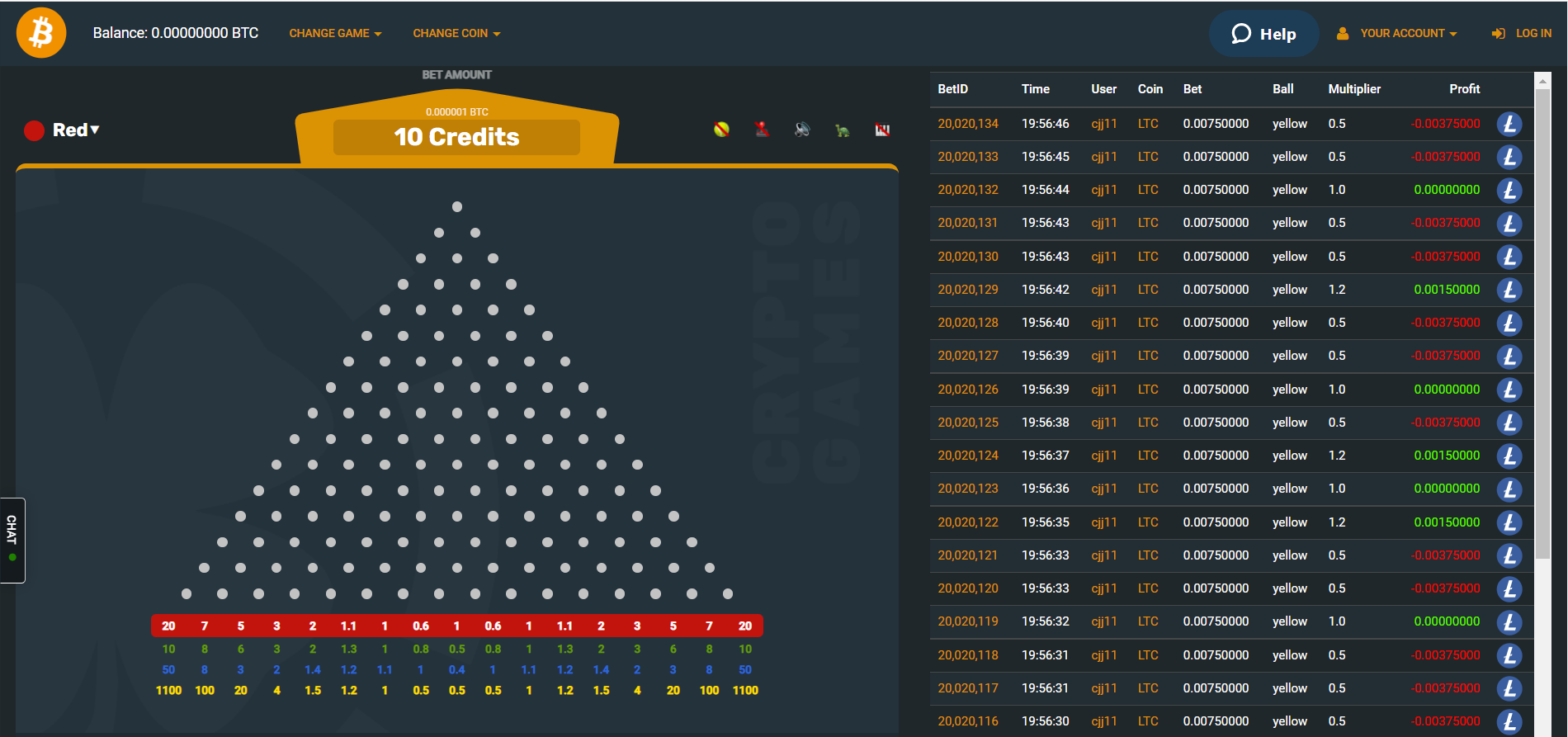 Plinko is a brand-new game in the gambling industry compared to the titles mentioned above. This one has certainly brought completely new possibilities with its exciting playing interface and no wonder it has gained enormous popularity ever since its release. You will come across a playing area that is shaped like a pyramid and covered in white-colored balls. Right below this pyramid, there are different kinds of multipliers located, the highest ones on the edges and the lowest numbers in the middle part. The main idea here is that red balls start falling from the top of the pyramid as soon as you start gambling and they fall on these multipliers in order to generate winnings. The majority of them are oriented towards the middle parts and you need them to drop on the edges in order to win the highest amounts. So, as you can see, the rules of Plinko are extremely simple and you have a chance to gamble here with different types of cryptocurrencies.
Slot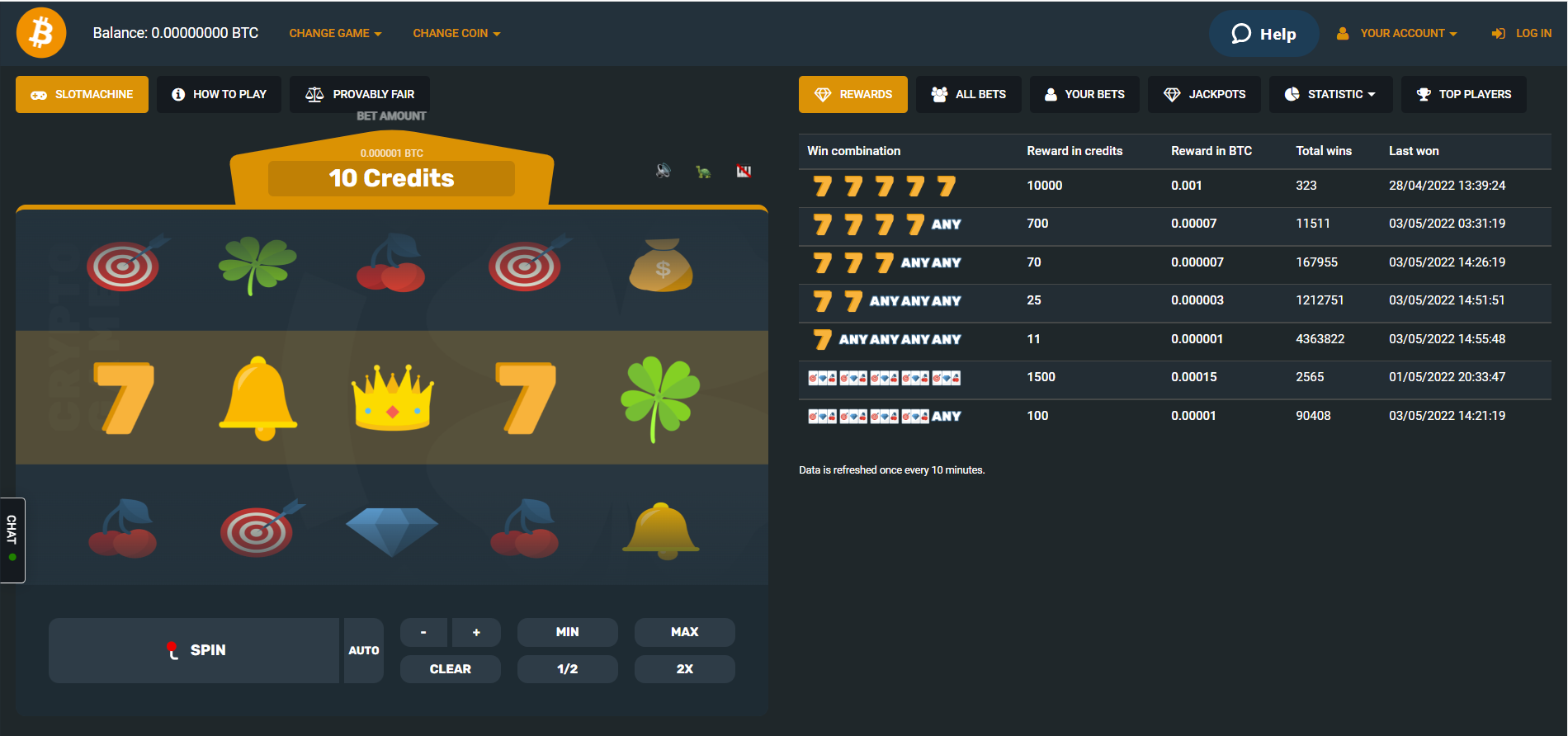 It is hard to imagine a casino without a single slot game nowadays, so it was necessary for Crypto.Games to provide a highly appealing slot machine that includes relatively different mechanics compared to traditional games. You need to collect at least four of the same symbol or a minimum of one 7 in order to generate a winning combination here and the numbers of payouts are displayed in the Rewards tab. Moreover, there is an autobet feature in this game that will provide bets on your behalf and it also adds additional functionality regarding increases and decreases in the outcome of the bet, giving you more power to create new strategies. This means you have the opportunity to enjoy this classic slot machine just like any other game and win significant amounts!
Crypto.Games Bonuses And Promotions
Since we have already covered two types of bonuses in brief above, we want to focus mainly on the VIP Membership Program that you see on the Crypto.Games website. In order to make this proposal available for you, you need to get on top of the leaderboard by gambling with certain cryptocurrencies. As a result, you will be eligible for enormous perks that will certainly enhance the overall gambling experience here. Below, we would like to list all the benefits that you will come across as a member of the VIP Membership Program.
Lower House Edge on Dice – Dice game will allow every gambler to experience a playground with as low as 0.8% House Edge which is far less compared to the regular versions.
Highest Bet Priority – You have the opportunity to place bets of any size without experiencing any kind of server-side delay and this will certainly help you to gamble extremely quickly!
Higher Exchange Limits – The exchange limit allows customers to become a part of third-party exchange without wasting any time. VIP members are eligible for even higher exchange limits and they can exchange ten times more every day as the limit is grown by a whole 1 Bitcoin!
VIP Chat room – The Vip Chat Room is available only for loyal users and it is a perfect resource used for communication where they are able to discuss ideas and share some stories with each other as well as owners of the casino.
VIP Tag on Chat – As a VIP member of Crypto.Games casino you will get a special tag that will be visible every time on the chatbox, so that everyone will know that you are a loyal member of the website.
Happy Birthday! –  You are eligible for a pretty lavish offer on your birthdays since this platform will award you 100$ worth of bitcoins. However, in order to claim this offer, you need to be a VIP member who has completed tier 3 verification and it is necessary to inform them about the date of your birthday via email.
As you can tell, there are highly attractive opportunities if you are willing to become a devoted member of the Crypto.Games website. Although these types of bonuses and promotions are completely different from what you see in the traditional casinos, they still allow every player to get a unique and marvelous gambling experience.
Crypto.Games Crypto Deposit Options
We have already noted several times in the article that Crypto.Games is an entirely crypto platform that allows only cryptocurrencies as a form of payment. Every customer has the possibility to deposit and withdraw funds via the following methods Bitcoin, Bitcoin Cash, Ether, Ether Classic, Litecoin, Dogecoin, Monero, Stratis, Dash, and Gas. So, it is pretty much a dream destination for crypto enthusiasts and there are various reasons why a huge number of gamblers choose to gamble with cryptocurrencies. The benefits of cryptos include highly protected transactions with the help of blockchain technology, instant payments that take place in a split second, and a very limited number of fees for withdrawals. Moreover, it is well-known that cryptos allow users to remain anonymous while playing on gambling platforms, so you don't have to reveal your identity and enter your private information when registering on crypto casino websites.
Also, if you are willing to convert from one cryptocurrency to another there is an inbuild exchange service in Crypto.Games that you can find on the "Exchange" page. You will come across the list of all the available cryptocurrencies that give you a chance to convert on the first page and the platform contains exchange rates that are renewed automatically every time. Take into mind that this opportunity is available only for registered customers.
As we have said above, there is still a chance to provide funds with traditional fiat currencies on the Crypto.Games website. However, you need to utilize a third-party resource called Onramper integration in order to do so, and currently, this method is only available for Bitcoin and Ethereum deposits. The process is very simple and the important thing to note is that Crypto.Games does not handle the credit card transactions themselves, instead, they are facilitated by the Onramper itself. it is a good idea to visit their website in order to find out more about this provider!
We want to highlight that cryptos take only a few minutes to process every payment which is one of their beneficial characteristics. Hence, you will have a chance to withdraw funds from Crypto.Games website almost immediately as you need to go through only two blockchain confirmations. To be precise, we will create a list of the required time of withdrawals for different kinds of cryptos
Ethereum Withdrawal – 1 minute (2 confirmations)
Dogecoin Withdrawal – 2 minutes (2 confirmations)
Litecoin Withdrawal – 5 minutes (2 confirmations)
Dash Withdrawal –  2 minutes (2 confirmations)
Bitcoin Withdrawal –  20 minutes (2 confirmations)
Other coins have a similar transaction time to Dogecoin
As you can see, you are not required to wait more than a few minutes in order to process every payment made with cryptocurrencies. When it comes to the amounts of payments you can provide on the Crypto.Games website the list looks like this
 0.0001 Bitcoin
0.01 Ether
0.01 Litecoin
0.001 Solana
0.02 Ether Classic
20 Dogecoin
0.01 Monero
0.001 Bitcoin Cash
0.01 Dash
0.02 GAS
As for the minimum withdrawal, players are not able to withdraw less than 0.0005 BTC or altcoin equivalent. However, the most interesting part is that you have the opportunity to custom choose your fees on the withdrawal page. But, keep in mind that lower withdrawal fees mean that you will wait significantly more time for transactions to get confirmed.
Is Crypto.Games For You?
Crypto.Games is a delightful gambling platform that offers high-quality games to every crypto enthusiast. It is a completely regulated casino that holds a license from a reputable company under the laws of Curacao, which means every user will be protected from any kind of fraud and manipulation here. Even though there is a total of 8 games here, they all feature well-known titles and you will enjoy the fascinating playing atmosphere in each one. Furthermore, if you gamble here for a long time and become a devoted member of Crypto.Games, you will be eligible to take part in the VIP membership program where a lot of beneficial perks are waiting for you! Hence, if you are a crypto enthusiast who wants to experience top-class games and lucrative promotional offers, then Crypto.Games is certainly for you!
FAQ on Crypto.Games Casino