Leading Crypto Bookmaker? – Sportbet.one Review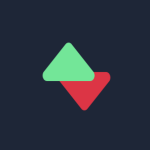 License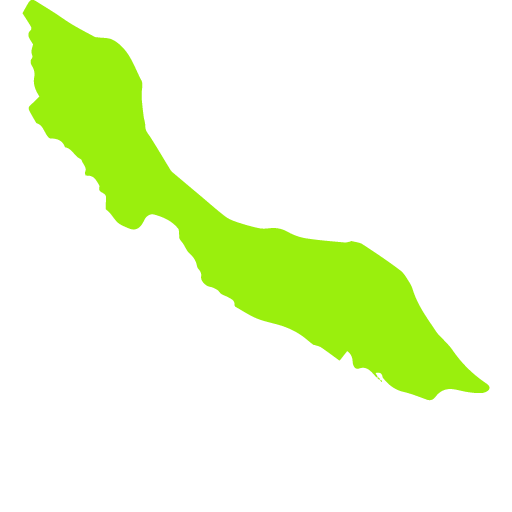 Tech Provider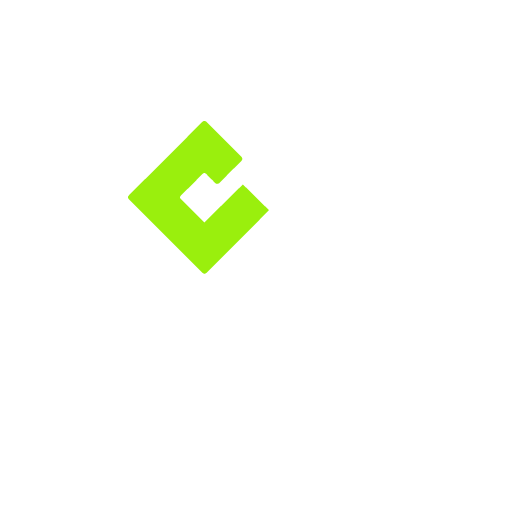 Sportbet.one is one of the most popular sportsbook platforms around the world which was founded in 2020. It also was the first decentralized sports betting website, build on the EOS blockchain. So, this is not the traditional bookmaker that requires users' identity verification and minimum deposits. This is the platform that gives everyone a diverse and unforgettable betting experience with high-quality offers and most importantly, a guarantee of safety.  On the website, you can bet on 15 different sports types with all regional and international leagues or championships. These sports types include football, basketball, rugby, boxing, cricket, baseball, and  14 types of eSports, such as CS:GO, King of Glory, League of Legends, Dota 2, and others.

Sportbet.one bitcoin bookmaker is trustworthy and regulated by international gambling authorities. However, the specific names of gambling commissions are not known. The main advantage of Sportbet.one is that people can play and place a bet anonymously. As one of the prestigious sportsbooks, the website is oriented to increase the satisfaction and experience of every type of user, which is why you can place sports bets with both fiat and cryptocurrencies. Everyone can have access to betting on their browser from mobile, however, Sportbet.one does not have a separate mobile app.
With the bonus systems, they try to be more special and unique. That is why they do not provide standard bonuses and have different welcome or loyal bonus packages. To activate Sportbet.one Bonus all you need to do is to create a user account and a place bet with the minimum  50 EUR deposit. If you are a crypto-player, you should place the equivalent amount of 50 EUR and connect your wallet to your personal account.
Sportbet.one  How to Place Bets
As we mentioned earlier, Sportbet.one is maximally oriented to users and its satisfaction which makes the company use high-quality technologies and simple structures which will be easy to use for everyone. Sportbet.one registration is simple and they do not require visitors' personal data or its confirmation. Also, for a more simple option, you can avoid the registration process and log in with your social network or google account. If you still wish to register manually, all you need to provide the website with is a username, name, surname, email, and password. Then you are allowed to place a bet and enjoy Sportbet.one offers.
Placing bets is easy as well as becoming a user of Sportbet.one. The main requirement is to be sure that your EOS account is not empty and that you have a fiat or crypto balance on it. Then you can easily choose the sports type you want. Each sport is simply understandable and well-categorized. For more clarification, lets' take football as an example which you can discover under the name "Soccer." Currently, you can choose from the World Cup matches. If we take a look at Argentina vs Saudi Arabia, we can see the details of full, first, and second-half predictions, probable amounts, and winning possibilities. If you are a football fan, it is simple to place a bet on Argentina, which has a better chance to win. You can check every detailed amount and odds and then press the team and easily place a bet.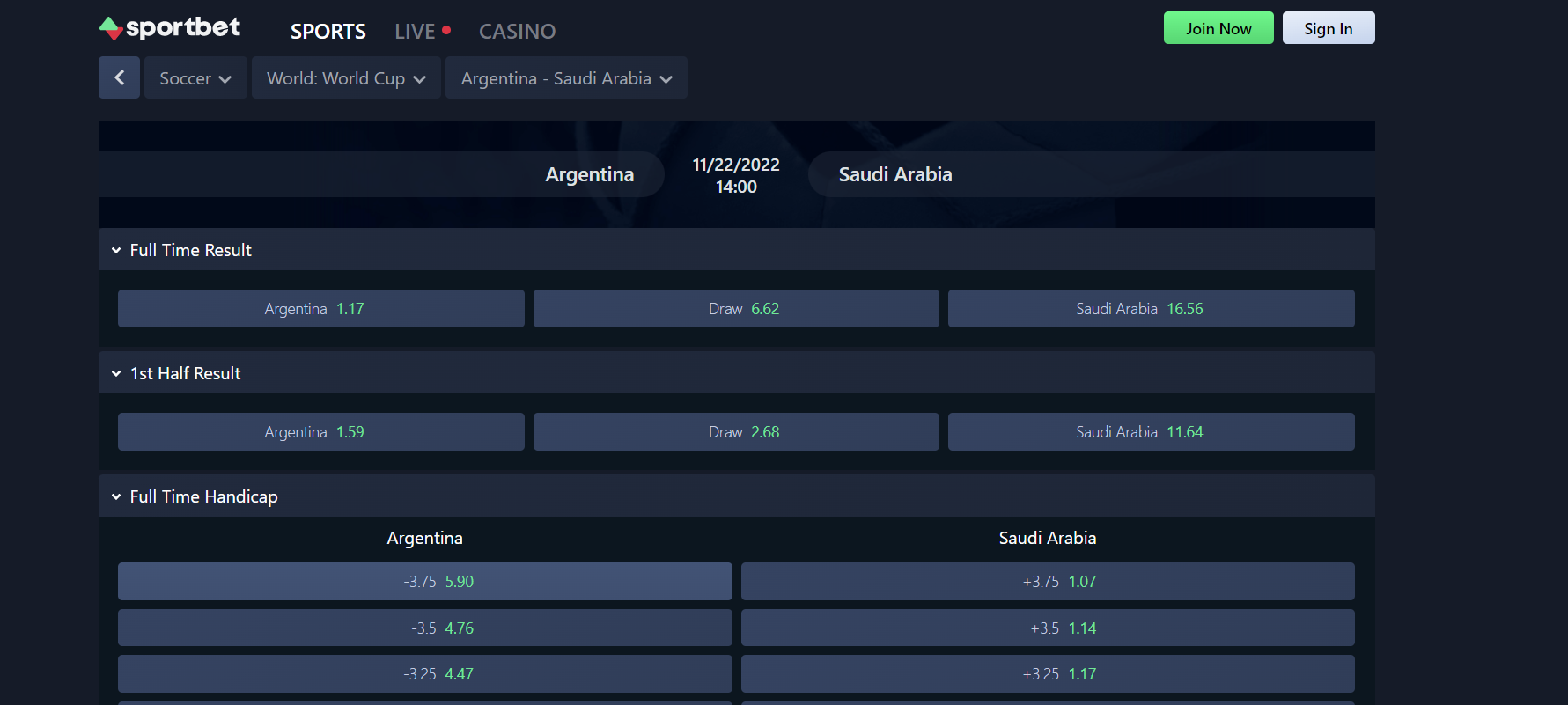 Sportbet.one Compared to Other Bookies
We aim to illustrate the real picture of Sportbet.one so you can make sure whether it's worthy of your time or not. For that reason, we have checked some Sportbet.one reviews, their bonus suggestions, and every feature in detail. To show what the main pros or cons are, let's do a comparison with different popular sportsbooks that will outline the real experience you are going to get.
Sportbet.one vs 22 Bet
There are not many differences between the two in this sportsbook. Both of them are accepting the fiat and cryptocurrencies and provide users with a high variety of sport-type choices. The main difference is with accepted cryptocurrencies, where 22Bet has a limited choice which only includes BTC and AUD. As for fiat currencies, it includes only USD and EUR, whereas Sportbet.one offers more fiat or crypto options.
It is important to note that 22Bet is more transparent and gives the user detailed information about licenses and addresses. Whereas for Sportbet users, it is hard to find the owner's identity.
Sportbet.one vs 1xBet
Sportbet.one and 1xBet are quite similar to each other. First of all, both of them have a strong positive reputation among the users. They are also more popular with sportsbooks than with casino services. None of them have a mobile application but use technologies to be accessible for every type of browser. Their sports portfolio is also quite similar in its quantity.
1xBet as well as Sportbet.one accepts fiat and cryptocurrencies. They also have the same minimum deposit requirement for sportsbooks which equals 1 EUR. So the main difference we can outline is design and structural differences where Sportbet.one can be more comfortable and easy to use.
Sportbet.one vs Stake
Stake is another successful sportsbook, founded in 2017 and located in Australia. They are oriented to be transparent as it is possible which is the first difference from Sportbet.one. Also, They are only accepting cryptocurrencies for betting and do not allow fiat currencies. On the other hand, they give the users a high variety of accepted cryptocurrencies such as TRX, XRP, BTC, BCH, DOGE, EOS, and others, which is a wider variety compared to the Sportbet.one.
The difference comes in the minimum required amount of deposit, where Stake asks to place a bet with a minimum of 0.06 USD which is lower compared to Sportbet.one. Both sportsbooks are simple to use and are well-structured, with high-quality graphic visuals.
Sports You Can Bet on Live on Sportbet.one
As we mentioned before, Sportbet.one is special with its diverse choice of sports types for betting. It includes about 15 types of sports as well as eSports. Each sport type includes all the main matches and championships which increases the betting opportunities significantly.
Sportbet.one has a great feature of live betting but if you would like to try it, you should consider that this is not available for every sport type. So make sure that your chosen sport has a live betting feature.
If you are new to sports betting, you won't get confused after visiting the Sportbet.one betting site. It is well-structured and gives a clear picture of every match, the winning probabilities, and teams. To outline more clearly, down below we will outline the three most popular sports on Sportbet, which are: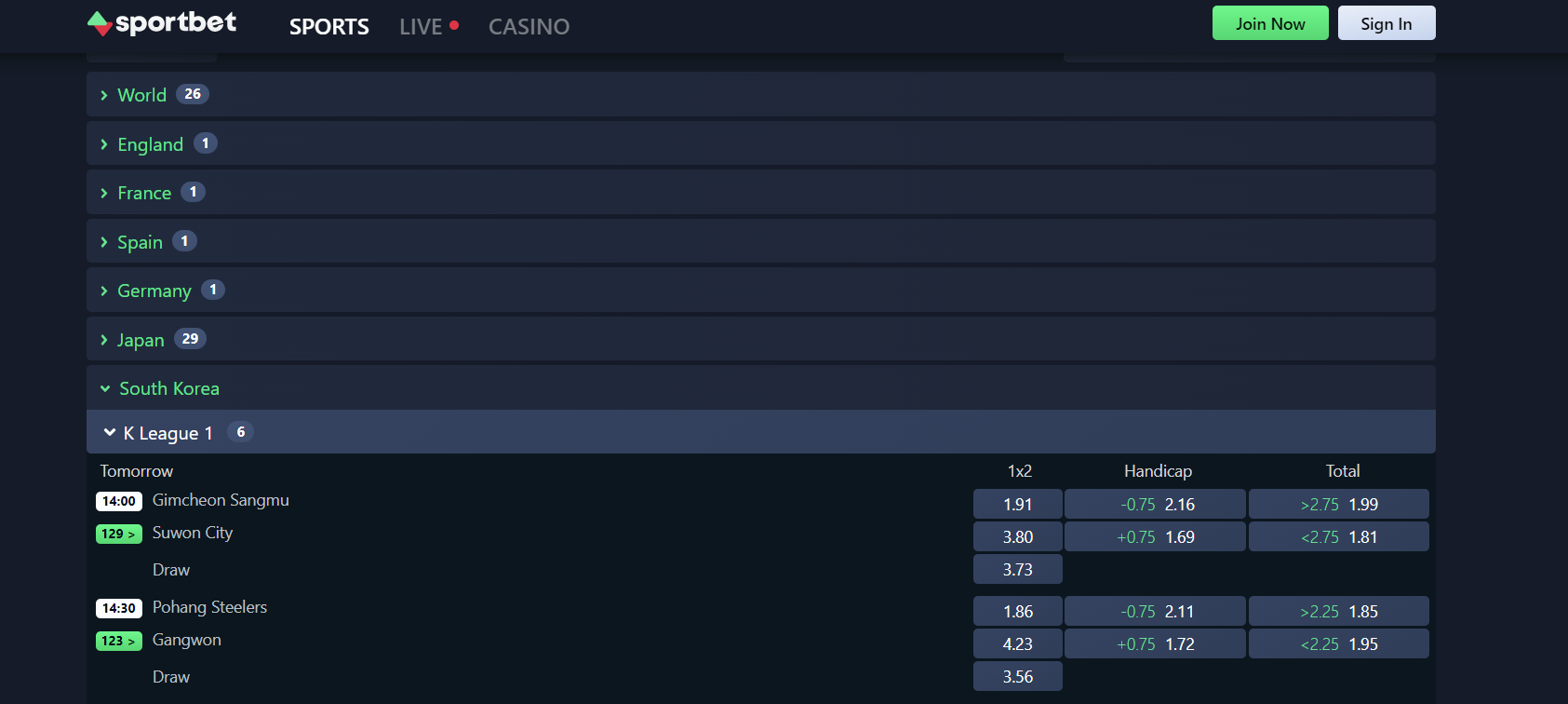 Soccer
Soccer is one of the most popular sport game in the world. This is classic football and is played in most countries around the world. Sportbet.one considers the level of soccer's popularity and includes all the main matches from 35 countries. There are matches available from World Cup, European Championship, and regional matches.
In each section, you can see the number of currently planned matches, their date, detailed information about teams, and predicted winning amounts. More Specifically, you can see 1st and 2nd half predictions, as well as total winnings. It is significant to know that the League of women is also available for placing bets.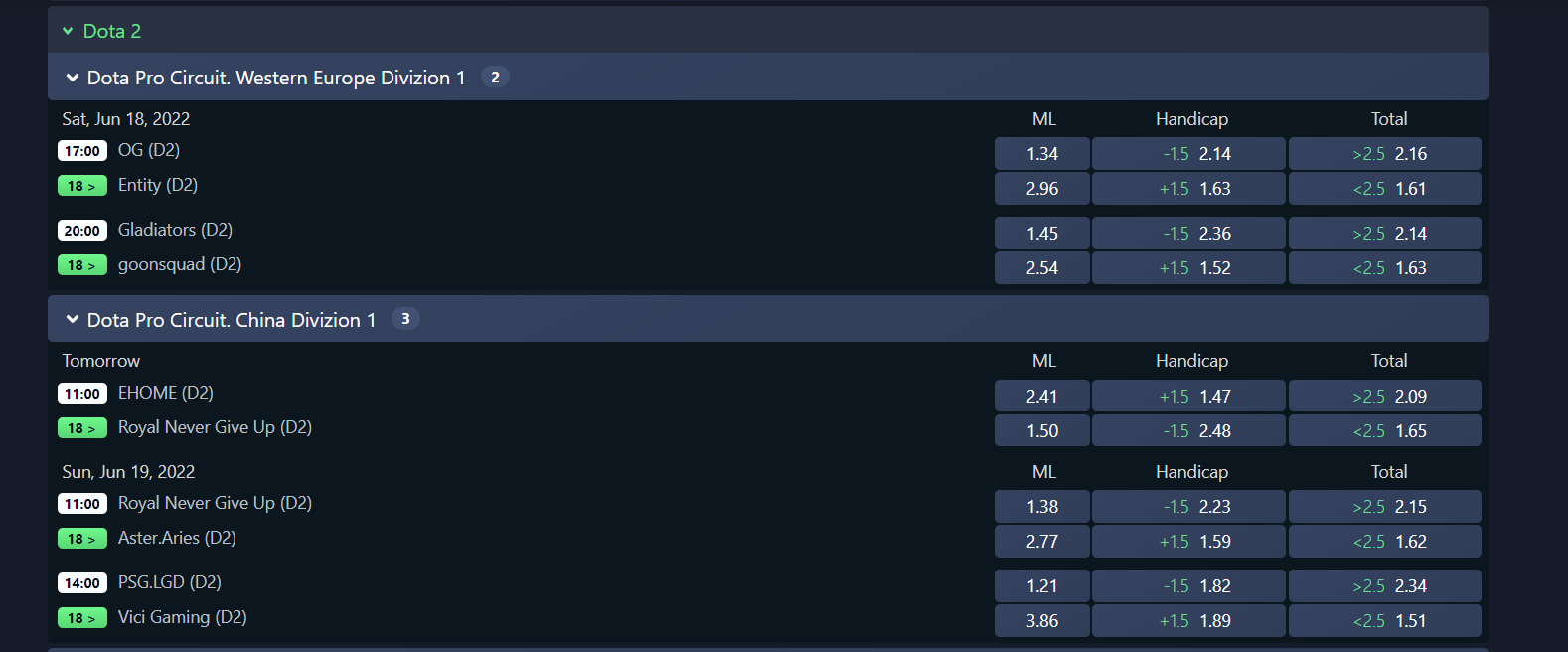 Dota 2
Dota 2 is a very popular eSport that is available on Sportbet.one. There are more than 14 different eSport types for betting which makes the users' experience more diverse and exciting. It is pretty similar to the other sports sections, where users can see the time and the betting predictions in detail. Currently, you can bet on different divisions including China, Europe, North and South America, Eastern Europe, and SEA.
Tennis
Tennis is getting more and more popular in the world. This is a quite interesting sport type which is comfortable to play for placing bets. As well as in other sports pages, in the tennis section, you can see detailed information about each player and match. H/A as well as total and handicap average settings are available. For Sportbet.one users, there are ATP London,  WTA Berlin, WTA Birmingham, ATP Halle, and ATP CH leagues available.
Other Live Mode Sports Worth a Shot
Besides these popular sports, there are also quite interesting sports types that are worth your attention. They are giving the user more betting opportunities which automatically means that winning chances go up. So, our advice will be to take a look at following live mode sports which will make your betting experience more diverse. Specifically, we will outline: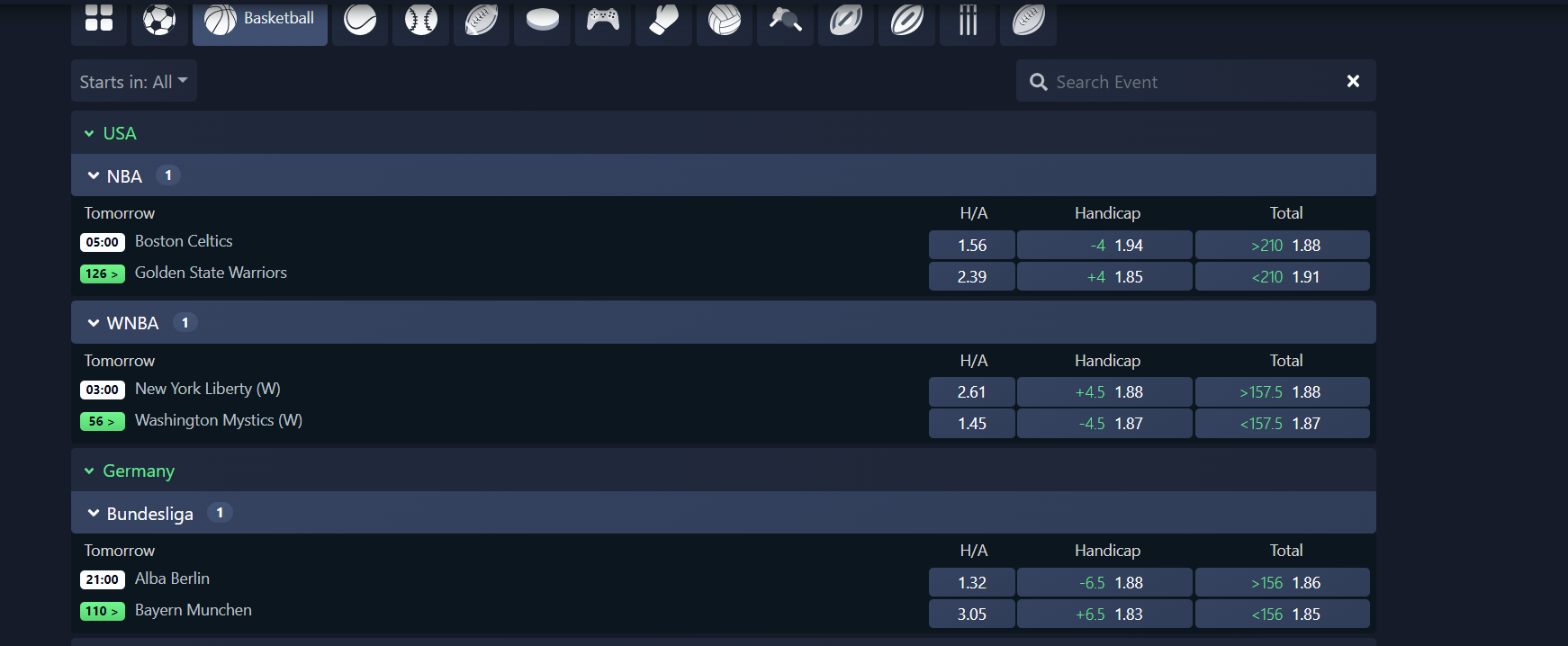 Basketball
Basketball is dynamic and very interesting to try. The high number of suggested leagues and high popularity from users increase the betting success importantly. The detailed information and simple tables will help you to find out which match will be more successful for betting. So, if you are new to basketball betting, do not get scared because the average predictions clearly outline which team has more chance to win.
On Sportbet.one, you can place a bet on NBA matches, which are more popular on this sportsbook, as well as regional leagues of Turkey, New Zealand, Greece, and Australia.
Table Tennis
For Table Tennis fans, Sportbet.one bitcoin sportsbook is the best bookmaker you can choose for betting. It provides a quite great opportunity with detailed data and information. On this impressive sportsbook platform, you can place bets both for men's and women's leagues.
There are WTT league and Challenger Series available. WTT is available for Zagreb and Lima divisions. So the alternatives for betting are pretty diverse which makes the overall experience very exciting.
Sportbet.one Bonuses and How They Work
Sportbet.one has several bonus offers but they are mostly focused to maximize the easiness of placing bets and minimizing the betting requirements for every user. The main bonus they have are for loyal users. The bonus is called leaderboard which includes guaranteed prizes.
This is a weekly bonus where the most successful users will get different special prizes. So, there is no specific Sportbet.one no deposit bonus available. But if you are lucky and make successful bets, you will definitely get prizes.
Get Lucky with Sportbet.one Sign Up Now!
Sportbet.one crypto bookie is a great website for those who want to experience diversity and great conditions with sports betting. First of all, the bookmaker provides anonymously and a great structure that is very easy to adapt even for new users. Also, the sport types as well ass eSports are presented with diverse choices and leagues that increase betting opportunities and bring more excitement.
The main advantage of Sportbet.one is that it does not require you to provide any special information to become a user. All you need is the general information or social network to sign in and that's pretty much it. The minimum deposit amounts, bonuses, and high reputation let us say that Sportbet.one bitcoin sportsbook is worth your time, money, and attention.
FAQs on Sportbet.one Bookmaker