Crypto Bookmaker of the Year? – Sportsbet.io Review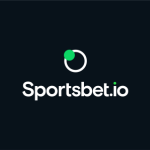 License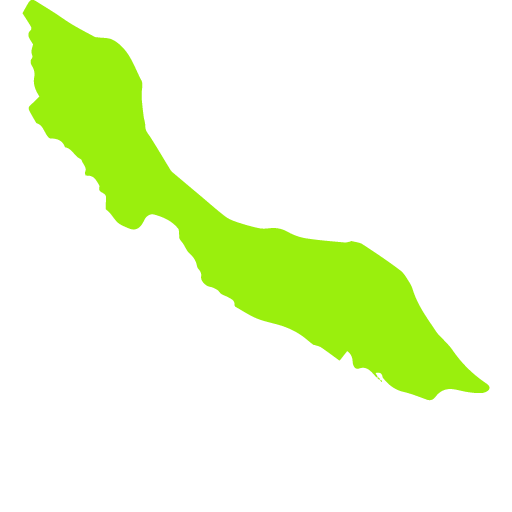 Tech Provider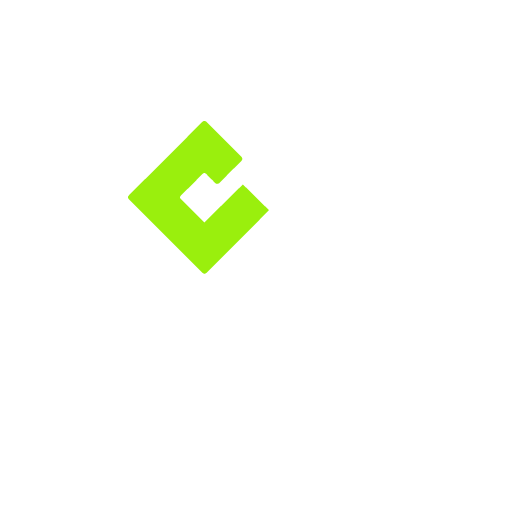 Sportsbet.io is one of the leading bookmakers in the online gambling industry. Sportsbet.io crypto bookmaker offers sports betting with cryptocurrencies in addition to fiat currencies. You can deposit and withdraw money with Bitcoin, Ethereum, Litecoin, Tether, Tron, Ripple, and Allsportscoin. Established in 2016, Sportsbet.io is operated by Curacao-registered mBet Solutions NV. Sportsbet.io is the official partner of several clubs, offering bets on a variety of even the most exotic sports.
If you are using cryptocurrencies for betting on Sportsbet.io you can be sure that your anonymity is ensured. However, with some payment methods, it is necessary to upload additional documents, which may affect your anonymity. Bitcoin betting ensures that transactions are hidden and governments cannot track them.
The minimum deposit for Bitcoin is 0.0005 BTC. Although, considering the crypto's volatile nature its price changes all the time, which means that the minimum amount could also change at any time if the value goes up or down.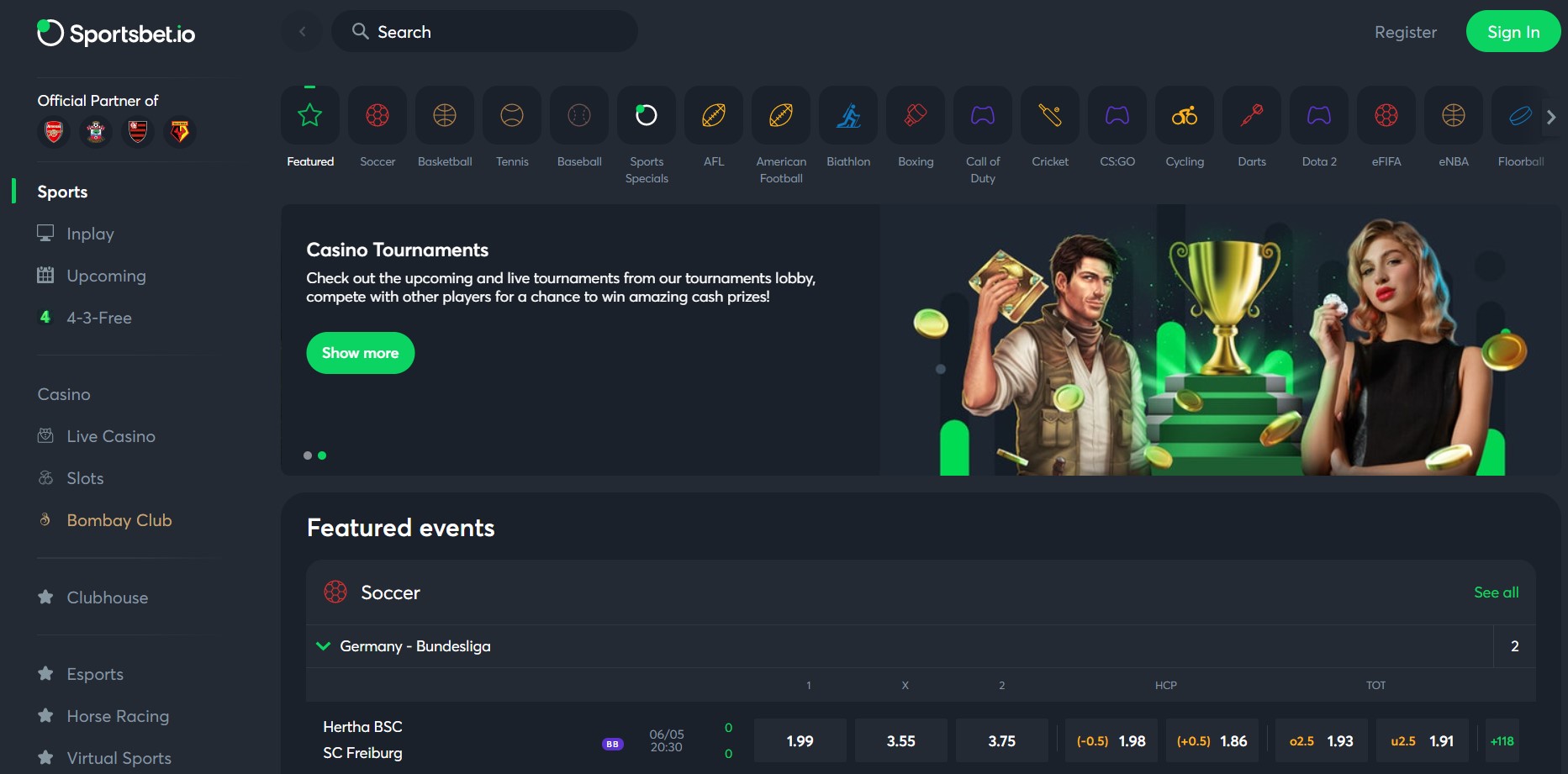 Sportsbet.io crypto bookie in general does not have permanent bonuses. These are usually temporary promotions that last only for a limited period of time. The real bonus that players can use is the VIP program, which is possible to see in the majority of the bookmakers. This is a club designed for loyal players, with exclusive gifts and different prizes.
Sportsbet.io offers almost all of the most popular sports with different leagues available for betting. Players are able to place bets and make predictions even on minor championships. In addition to sports betting and other events (though they have a very small line), there is also an online casino. Here you can find more than 250 games with products from the best developers: Betsoft, Pragmatic Play, Endorphina, Evolution Gaming, Yggdrasil, Microgaming.
Sportsbet.io has a great mobile version, it works quickly and all features are available. There is also the Sportsbet.io Bitcoin bookmaker app which is only available on Android devices. The mobile version comes with different qualities and provides the best user experience.
Sportsbet.io – How to Place Bets
Navigation on the crypto bookmaker's website is simple. As soon as you enter the site, you are automatically defaulted to sports betting and met with various sports betting opportunities. You can filter matches by the following categories: live matches, matches taking place in the next 24 hours, and future matches. It is a really nice feature available on Sportsbet.io Bitcoin bookie.
Let's have a look at a World Cup Qualifying match between the Czech Republic and Belgium. Everything is standard as in most online bookmakers. Before opening additional options you can bet either on 1, X, or 2. If we open the section where additional bets are provided here we can instantly notice, that the match is not rich in options. Over 80 options are available and it is not possible to place bets on statistics such as corners, throw-ins. Yet you can place bets on handicaps, correct score and some exclusive options are provided, but the main ones are missing.
On the right side, you can see recent matches, H2H statistics, and win probability. This is something you will not see frequently and Sportsbet.io bookmaker certainly worked on this feature.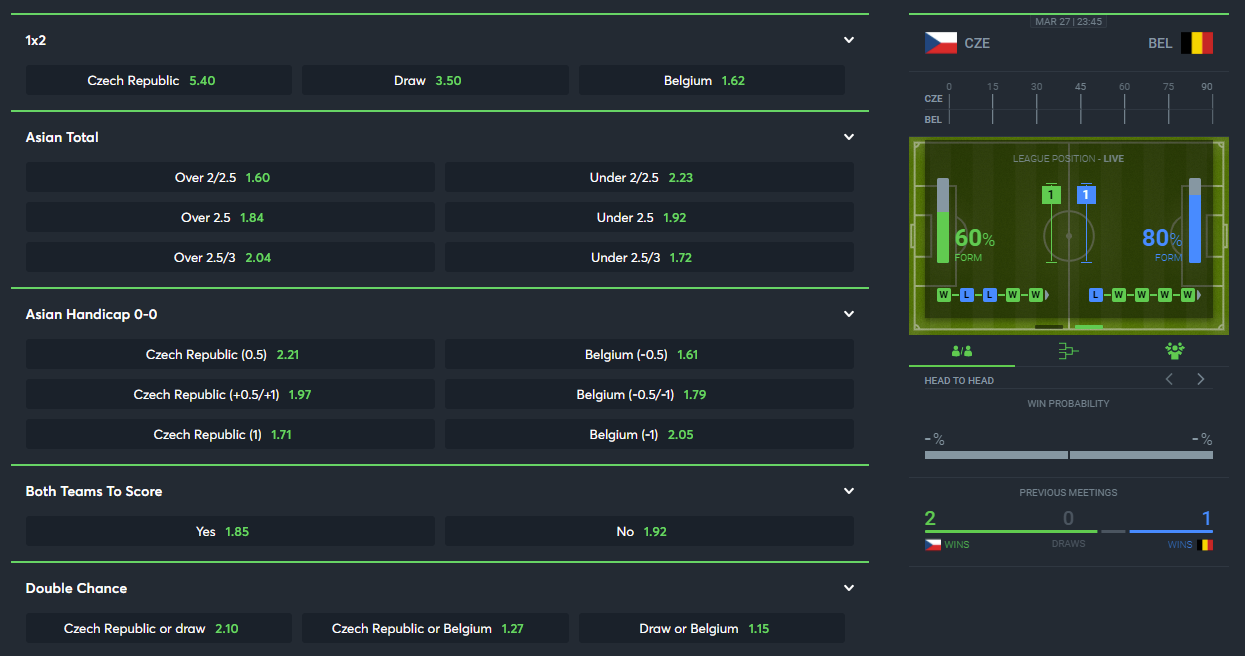 Sportsbet.io Compared to Other Bookies
It is necessary to point out that a comparison of Sportsbet.io crypto betting site with other bookmakers of almost similar quality is a key to determine which operator is the best for betting. The most objective criterion is picking up the same matches and having a closer look at them. Here, we have chosen 3 crypto bookmakers for the comparison.
Sporstbet.io vs ThunderPick
Here Sportsbet.io crypto betting site has a clear advantage. If we pick up the same World Cup Qualifying match from Thunderpick, odds are almost the same except that the Czech Republic has an odd of 5.40 on winning in Sportsbet.io, while Thunderpick has 4.50. Any punter placing bets on the following will definitely have better winnings on Sportsbet.io even though Belgium might see a heavy favorite from the first glance.
As for additional options, Sportsbet.io also prevails. With more than 80 options compared to Thunderpick's 4, there are way more opportunities for maneuvering on the Sportsbet.io Bitcoin betting site.
Sportbet.io vs 22Bet
As for the comparison with 22Bet, the latter has an advantage primarily in the offered options. In the same match, you can choose between more options on 22Bet as it has almost 1000 possibilities. Odds do not differ significantly – a slight change in a draw and Belgium's victory.
Checking the eSports section is also a good idea, as both of these bookmakers pay a lot of attention to this discipline. For example CS: GO matches are also slightly better on 22Bet because odds are higher and additional options are limited on both sides.
Basketball matches and in particular the NBA is more profitable to bet on 22Bet because the latter offers increased odds and in the case of betting a large amount of money, such a difference actually matters. Also, additional options are more compared to Sportsbet.io Bitcoin sportsbook.
Sportsbet.io vs GGbet
With GGbet, the abovementioned game between the Czech Republic and Belgium is not even available. It is an advantage for Sportsbet.io crypto bookmaker because while punters on the latter are contemplating making various predictions, GGbet has not yet announced the possible bets on this game. However, for other matches, odds are slightly better and additional options are also increased.
With eSports, we can already see some differences. GGbet has better odds and more options, from maps to kills with different weapons. It is not a surprising fact because the bookmaker is known for its excellence in this discipline.
In tennis matches, both of these bookmakers have the main tournaments available for betting. In this regard, they are almost the same and little will punters notice any difference in odds as well as in additional options.
3 Sports where Sporstbet.io Excels at
Sportsbet.io crypto sportsbook has quite a wide range of bets. There are almost all existing sports, from the usual football and tennis to the most exotic. In total, you will find about 30 sports on the site.  You can also watch the most popular events, matches that will soon begin, etc. Most bets are offered on football, table tennis, snooker, hockey, and basketball.
Betting is available in Prematch and Live modes. In addition, Sportsbet has live coverage of matches, but they are only available to those who have made a deposit.
However, we should not forget about other sports which are really attracting players on Sportsbet.io. These sports are: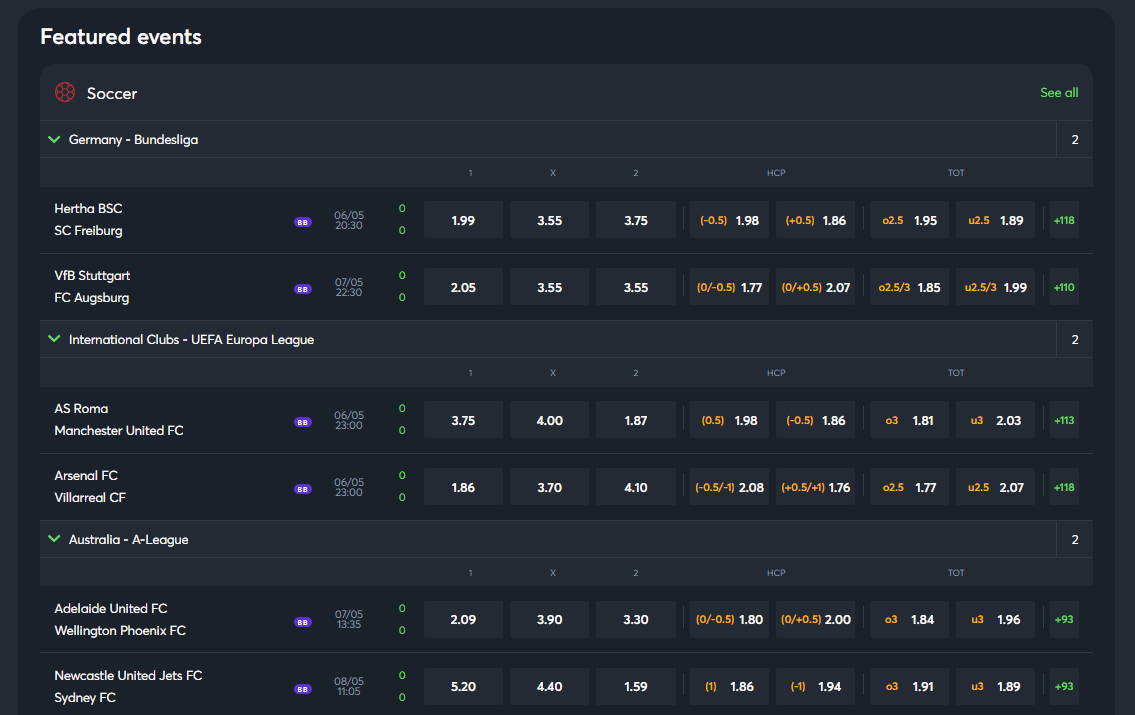 Biathlon
It is very hard to find this sport anywhere else and here we have Sportsbet.io crypto bookie offering bets on this discipline. A huge army of biathlon fans bet on their idols. It is a very pleasing sport to watch and Sportsbet.io sportsbook decided to feature the competitions in line of betting.
For fans of earning money, biathlon offers a fairly eventful season, which usually starts in November and ends in April. During this time there are a lot of competitions of different levels, among which it is necessary to allocate the Olympics.
MMA
There are quite a lot of matches available for a small bookie. But it should be said that the line of betting in MMA is not too broad. You will not meet about a hundred outcomes, as in basketball. There are several options for betting on MMA, and the most popular is to bet on the outcome. It goes to a certain fighter, and it does not matter how he won the championship. Betting on a draw does not happen, even if the fight ends with an equal score, which almost does not happen.
Esports
Literally, any eSports game on Sportsbet.io bookmaker is their strong suit. In addition to the usual sport, there is eSports. The latter includes disciplines such as Dota 2, League of Legends, Rocket League, and StarCraft. Like in the majority of bookmakers you can bet on the winner, specify the margin, or score after several confrontations. Betting on the winners of prize places at the tournament is accepted and during the competition, the odds change dynamically.
eSports is famous for its dynamism and unpredictability. Much depends on the luck, tactics, and qualities of the remaining players in the team.
Sportsbet.io VIP Guide
The VIP club is something that is typical for most online casinos. Sportsbet.io is no exception and being a member of the VIP Club will bring numerous advantages to loyal players. Unfortunately, we should point out that there is no Sportsbet.io bonus based on deposits.
Becoming a member of the Club is possible through the invitation from Sportsbet.io. It means that you should play games and after reaching a particular level you will be contacted by the administration, which will immediately grant you the status.
The first thing you will get from the VIP membership is exclusive attention from personalized managers. These managers will be ready to resolve all your needs and help to arrange matters. They are ready to clear up any concerns and make you feel special.
Without prestigious events, it is impossible to imagine a VIP experience. From cruising to living in a 5-start hotel in Asia, the VIP Club also offers attending matches during Euro 2021. In general, the most famous sports events will be available for you to participate in.
Bonuses and promotions are available on Sportsbet.io crypto bookmaker but being a member of the VIP Club comes with more unique and offers and promotions. You get more free spins, exciting offers, and prizes every month. Free Bets are also given to players for betting.
Overall this is an experience worth trying and the only thing you need to do is keep playing your favorite games and the invitation will come in no time!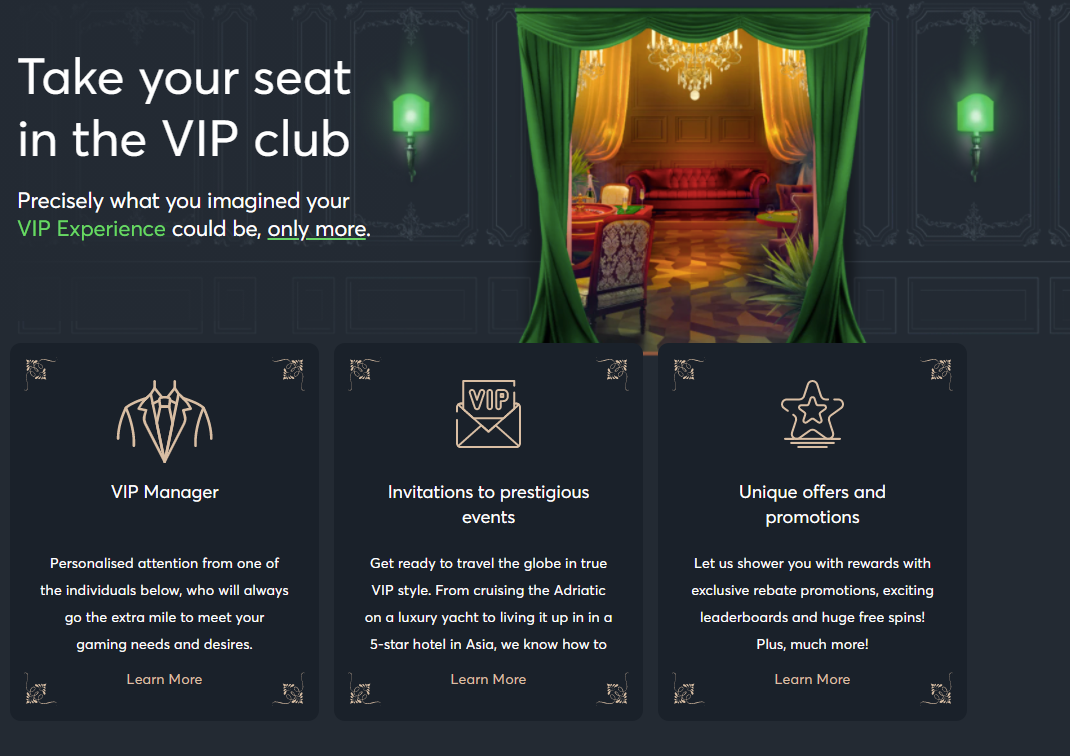 Bonuses on Sporstbet.io are Always Temporary
The more promotions and bonuses on the bookmaker's website, the more pleasant it is to play. Choosing between several bookmakers, many stop at the service, which offers nice bonuses for registration, cashback, and a variety of promotions from time to time.
It should be said that the sportsbook doesn't have bonuses that are constantly available. Bonuses are located in the Promotions section – there you can find offers for sports betting and for casinos. We should note that Sportsbet.io bonuses and promotions are mixed with news, for example, about the appointment of a new brand ambassador's look at some of the bonuses that Sportsbet offers.
Price Boost
The increased odds are available once every 24 hours for each sport. Simply select the event and the amount of the bet, click on Price Boost, and get higher odds than originally specified. You can only use the bonus for each event once. This is an incredible offer for players, determined at maximizing their winnings.
Sport Boost
Sportsbet.io has a partnership with 2 Premier League teams that are Southampton and Arsenal. It should be said that betting on matches featuring these teams will also result in an additional 10% boost, that will help you maximize the winnings. This boost is available 24 hours before the start of a particular match and is possible to use once per event.
In addition, there are various thematic bonuses with a limited duration. Sportsbet.io no deposit bonus is not available at the present moment. In general, we can say that the bonus policy is quite good. There is also betting insurance and Cash Out.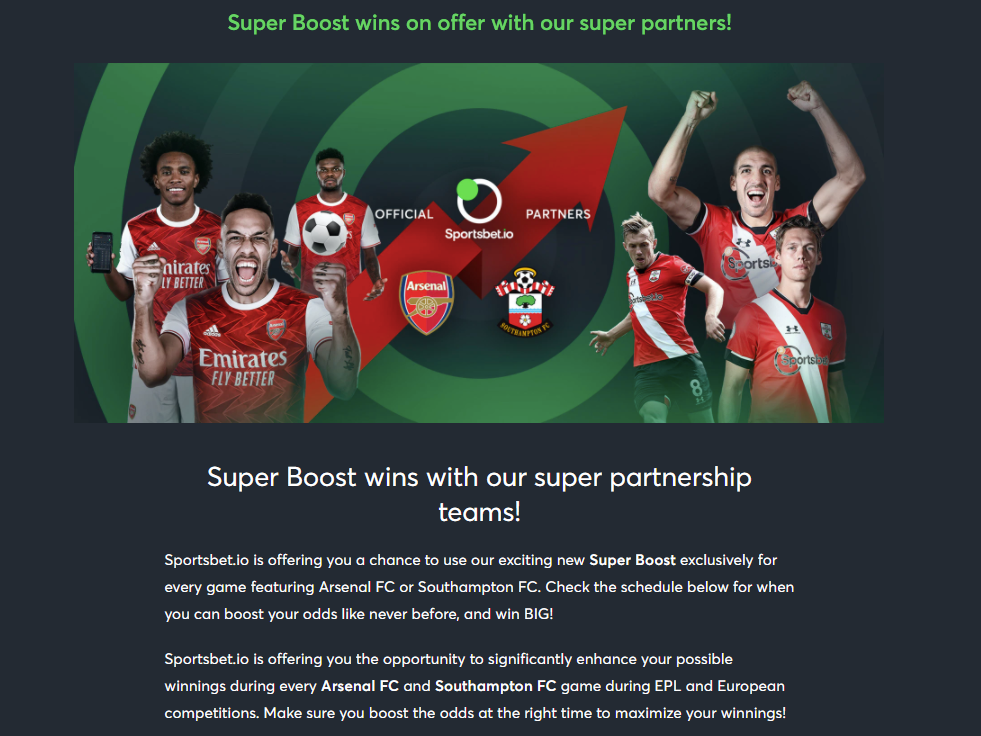 Be Sporty with Sportsbet.io – Sign Up Now!
Sportsbet.io crypto bookmaker is one of the rather interesting projects in the sports betting market. Here we can mention notable benefits the bookie offers to players
The large selection of cryptocurrencies for betting
The site is available in numerous countries
There is a mobile app for Android.
0% commission on transactions with cryptocurrencies.
Stylish design.
A huge selection of sports, down to the most exotic ones.
Because of these advantages we definitely recommend signing up on Sportsbet.io. This is an excellent bookmaker with decent odds, a broad line of betting and the VIP Club is also something allowing players to take the maximum out of Sportsbet.io Bitcoin bookmaker!
FAQ on Sporsbet.io Crypto Bookmaker